---
2014 YES Abroad Photo Contest
April 1, 2014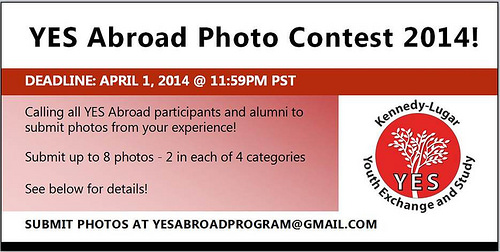 2014 YES Abroad Photo Contest
Deadline: April 1 @ 11:59pm PST
Category Winners (4) - $50 Amazon gift card
Honorable Mentions (4) - $10 Amazon gift card
1) Contestants should submit photos taken during their YES Abroad program in the following 4 categories:
1. The Host Family Experience: photos that give an idea of what it's like to live with your host family
2. The Host School Experience: photos that show daily life or a special event with your host school
3. Community Service Abroad: photos that demonstrate community service in your host country
4. "My YES Abroad Experience": photos that epitomize your experience and what it means to you
2) Every photo submission must include:
• photographer's name and submitter's name (if different than photographer)
• YES Abroad program year and country (i.e. 2012-13 Morocco)
• photograph category ("Host Family", "Host School", "Community Service", or "My YA")
• a caption describing the event or action in the photo
• names of YES/YES Abroad Program participants/alumni in the photo
3) Photo Contest Rules:
• Photos MUST depict activities which took place during the YES Abroad program
• You MAY be requested to submit a "likeness release form" if non-participants (such as host family members) are recognizable (request the form at [email protected]).
• Format: original, high quality photos as .jpeg, .jpg, or .gif files
• Photos MAY be posed or candid
• Up to 2 photos may be submitted per category, per contestant (8 maximum per contestant)
4) Winning photographs will be selected based on how well they depict the unique opportunities and goals of YES Abroad: to promote cross-cultural understanding, to introduce American high school students to foreign cultures, to foster mutual understanding with citizens of other countries, and to encourage lifetime learning and future engagement in critical global concerns.
5) Prizes will go to the person who submitted the photo, or to the photographer in case of multiple entries of the same photo.
6) By submitting a photo, contestants grant YES a royalty-free, worldwide, perpetual, non-exclusive right to display, distribute, reproduce and create derivative works of the entries for promotional purposes. Any photograph reproduced will include a photographer credit as feasible.
7) Winners will be notified via email soon after the submission deadline and winning photos will be announced via facebook, twitter, and yes-abroad.org.

To submit photos email: [email protected]
---