---
Being a Soccer Fan in Morocco
December 9, 2022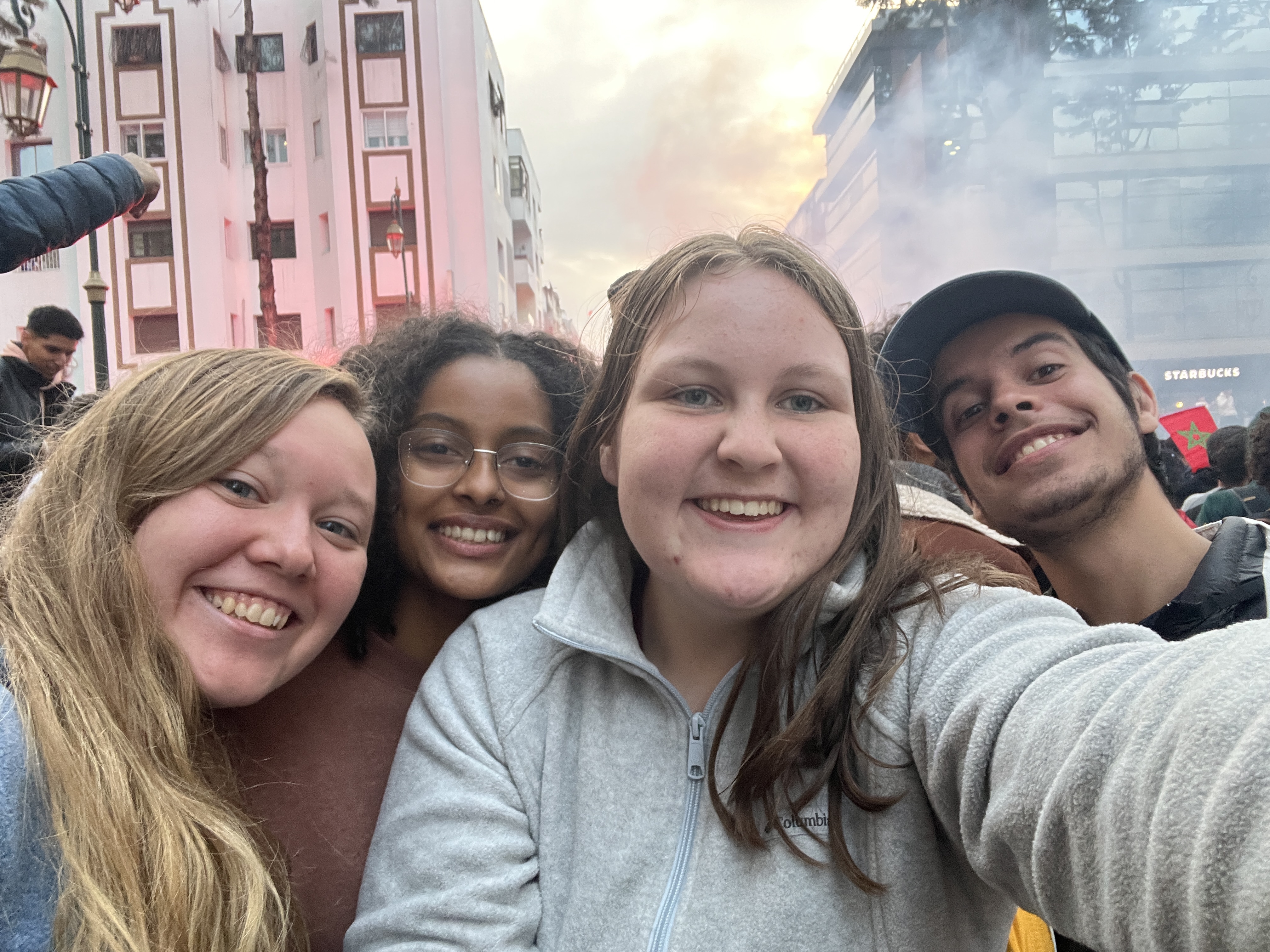 By Maria N., YES Abroad 2022-2023, Morocco
On the wettest day since we'd arrived, crowds lined the streets near the Amideast center. Work had stopped and schools had let out early so that people could gather in hoards surrounding tiny cafés where someone would be incredibly lucky to find a seat. The TVs had been rolled out a few weeks ago, where they had begun to establish a place of temporary permanence. Not wanting to have to figure out how to stuff ourselves into a café that had no space, we sat in a classroom at Amideast, watching the game on the screen. Two hours later, with much anxiety and a few goals here and there, the whole country erupted in cheers. People poured out of the cafés into the street to celebrate with their friends and neighbors. It wasn't uncommon to see someone hanging out of a car waving a Moroccan flag, accompanied by a flurry of honking horns. This was a cause for celebration – Morocco had topped their World Cup group and made it to the Round of 16.
As an American soccer fan, a fact which often surprises people here, I find the dedication to the sport a little overwhelming. I'm used to trying to convince people why this version of football is just as good as the U.S. one, not having to explain to my host brother why I don't have a European team I support. I've spent my life cheering for a team where our rivalry is one of the best in North American soccer yet whose impact is only felt in the region, but here, I find myself in a city where the streets nearly shake when Barcelona and Real Madrid play.
On the street I sometimes walk down to get home from the tram stop, cafés dot either side, mixed in with small store fronts and hanoots. If I walk past in the late afternoon or evening, the cafés have rolled out TVs, their channels switched to the latest soccer game. I often slow down a bit, trying to catch a glimpse of who's playing and the score. It's usually a European team, but more recently, the World Cup has replaced the Champions League.
To say Moroccans are passionate about the sport is an understatement. Over the past month, I've found myself consuming more soccer than I ever dreamed of. My cohort and I had the opportunity to watch both the men and women's ASFAR teams (the local team in Rabat) as they played in the Confederation of African Football (CAF) Champions League. As an exchange student, I've found myself having little moments of culture shock in unexpected places. I discovered that soccer stadiums were one of those places
Every so often, I would spot a laser pointing down onto the field, directed at a player they hoped to distract. Whistling began every time the opposing team touched the ball, dramatically increasing the volume in the stadium to almost unbearable heights. But above all, the crowd's passion for the game shone through. The pure joy on people's faces as a foul was called in their favor or the ecstasy with which they cheered when the ball soared into the net was contagious. It was hard to not be happy – especially after the final whistle blew and the scoreboard displayed the proof that both times, the ASFAR teams had won their respective competition.
For the ASFAR women, their game crowned them champions of CAF. I spend a lot of time watching women's soccer in the U.S., and I loved being able to support a women's team so far from home – and made me incredibly excited to watch the Women's World Cup next year, and I think Moroccans are too.

This winter, everyone I know here has been wrapped up in the men's World Cup. The day after matches, I'm always asked whether or not I've watched Morocco play. And when people ask me who I'm supporting this World Cup, they often look at me slightly funny when I say the United States. But then they ask me who I'm supporting after that, and the looks are replaced by smiles when I tell them Morocco. And they never even think twice when me and my cohort join them in chanting their national team's slogan, because when it comes to soccer, if you're cheering for Morocco, you're one of them.
For as long as Morocco is in the World Cup, my cohort and I will be joining Moroccans as they celebrate their country by cheering Dima Maghreb! Always Morocco!
---