---
Building Libraries in Ghana
May 15, 2013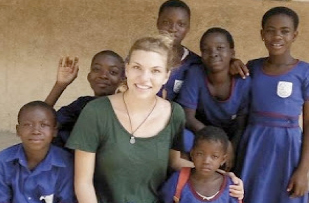 Emily Simpson has spent the last 8 months as a student and teacher near Tema, Ghana through the YES Abroad program. She was immediately impressed with the amount of English that her young students knew but when she inquired further with the headmistress she discovered the reality.

The students did not know how to read English. They had simply memorized what the book said because it was the only textbook they had access to. Outside of school wasn't any better. Book are sparse in her community as in many communities across Ghana. She knew that there had to be a solution.

High school senior, Simpson, mobilized everyone she knew and collected 300 books to start a library at T.I. Ahmadiyya Basic School. Donators included The Friends of the Albany County Public Library and U.S. Embassy workers. Emily didn't want her project to end when she returned home to the U.S. so she founded "Our Forgotten Families" which leverages her network of schools in Ghana with individuals and organizations around the world.

She is still seeking book donations for children ages 5-15. For more information check out this article published by Laramie Bloomberg online.
---