---
February 2016 American Abroad Student of the Month: Matt Maruca
March 18, 2016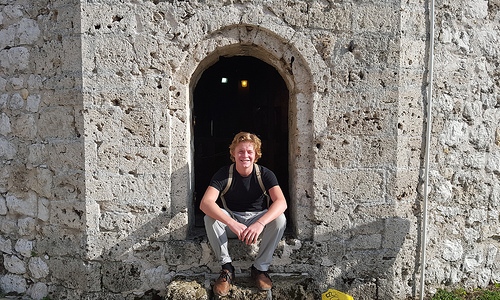 Matt Maruca, a Kennedy-Lugar Youth Exchange and Study Abroad (YES Abroad) program participant has been named February's American Abroad Student of the Month. Matt, originally from Narberth, Pennsylvania and a student at Harriton High School, is spending the academic year studying in Banja Luka, Bosnia and Herzegovina.
Matt's commitment to immersing himself into his host community and his love for Bosnia are highlighted in press and TV interviews. Matt is learning to play a traditional instrument, the "tamburica"; participates in religious and social events and workshops; volunteers at the local soup kitchen, kindergarten, high school association, and the U.S. Embassy's American Corner; and is learning how to make traditional dishes. Matt was chosen from among 1,300 students to represent his host school Gimnazija Banja Luka at a Model United Nations conference. Together with other students, Matt volunteered at an international charity soccer tournament, in which 18 teams from Bosnia and the South East European region participated. The proceeds went towards funding one of the few soup kitchens in Banja Luka.

Matt enthusiastically introduces everyone around him to American culture. Matt organized and participated in lectures for Black History Month and about American sports, and participated in a workshop for International Women's Day during which attendees made gifts for women in the local oncology ward. He was one of his school's official hosts of their annual European Day of Languages and organized a musical performance with other YES Abroad participants. He eagerly participated in a Q&A organized by the U.S. Embassy, helped to facilitate a week-long International Education Week activity at his school, and organized a massive, traditional first Thanksgiving dinner ever held in Banja Luka for his teachers, classmates, and all YES Abroad host families. The potluck was attended by a total of 40 people, who contributed both American and Bosnian dishes to the celebration.

Congratulations Matt!
---