---
Finding Community in Football
February 24, 2020
By Will T., YES Abroad 2019-2020, Senegal
After arriving in Senegal, I soon discovered that making new friends, especially those my age, would be a rather challenging process. In my host city of Dakar, due to geography and transportation options, friend groups typically consist of those who live in the same neighborhood. I have friends at my host school of course, but the distance and challenge of navigating the large city by public transportation makes it difficult for me to spend time with my school friends outside of school hours.
In my neighborhood, it seemed like options for friends are either kids, aged 14 and under, or adults over 22, and I initially had a hard time finding my place and where I belong in this community I call home. As time passed, however, I started playing soccer – or football as it's better known outside of the U.S. -- in my neighborhood with the younger kids and eventually with those older than me. I became friends with both groups, but I struggled to connect with either group due to age and language barriers.
While I was enjoying playing football late at night with the neighborhood kids and early in the morning with the "veterans," I still felt something was missing, so I decided to sign up for a local team where I could play with kids my age on a regular basis. I soon made connections with these players who came from all over Dakar--some who live near me and some who travel up to two hours to get to practice! Every day at practice I am greeted with a great deal of the local language (Wolof) and a great deal of laughter from both parties as I understand close to nothing of what they say to me. The guys at the football club all have a great sense of humor, though, and have taken me in as one of their own, which has helped me feel more comfortable to express myself in my community and its language.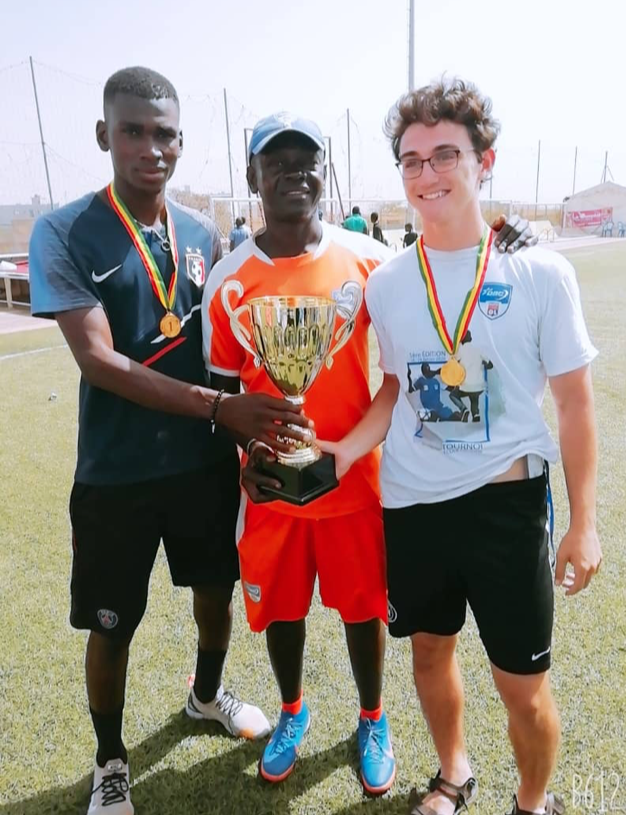 Now that it is February, I have gained respect at the club through improving my Wolof and putting forth the effort to be a part of Senegalese culture. In late January we had our first tournament of the year, and I was selected as captain of the team. We even ended up winning the tournament after winning six of the seven games!
Playing football has truly helped me integrate into my community, and I look forward to what more it may bring in these next few months. Despite often being hindered on the field due to my Wolof, I was have been able to bond with my teammates through the language of football--something understood by both me and my host country alike!
---