---
First Deepavali: YES Abroad Malaysia students experience Hindu Festival of Lights
November 16, 2011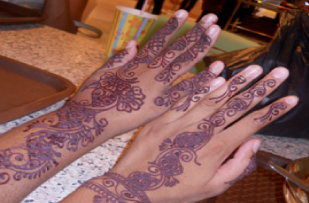 Margaret D., YES Abroad Malaysia Scholar
This month was extremely eventful for me as an exchange student and me as an individual, and I learned so much about the culture around me and within me through the experiences I had.
For Deepavali, the Hindu festival of lights, we were put into Indian families for a week with the sponsorship and support of Perak Chapter. That was a marvelous experience! I was with a mother who took me to her school where she teaches English and Tamil where I spoke about being an exchange student in Malaysia and how aspiring students could get involved, and she took me to her charity events where I met a Dato.
We went as a family to Penang and Penang Island where we met some of her family and they took me out to see the very historic, very beautiful city. I experienced everything with the family; including Hindu prayer and Temple visits, an engagement ceremony, a funeral ceremony, Deepavali visiting, traditional Indian dress (Sari and Pinjabi Suit), and food.
Before returning home, I promised to come back, probably for Christmas because the mother said she had some very nice Christian friends who could host me. Overall, October was a very educational month where I learned the culture specific to the ethnic groups here.
As AFS Malaysia drills into your head; "It's a learning process, lah,"
Angelina W., YES Abroad Malaysia Scholar
My first Deepavali was incredible, filled with tons of children, fireworks, new foods and lots of colors!
I am hosted in an Indian home but although they practice Christianity and not Hindu, you can still feel the Deepavali spirit around our home. At the beginning of the week, my host sisters and I went to Masjid India, also known as "Little India", which is located right in Kuala Lumpur. There, I was able to see the preparations for the parades and parties going on there and while we were there, my sisters and I got Deepavali henna patterns on our hands!
I was invited to my neighbor's home to learn how to make murukku, a tradition Deepavali sweet. This is done by first creating sweet dough filled with Indian spices. Next, we put the dough into this little device that squirts the dough out into spiral shapes. It is then fried to perfection. It took a while to get the hang of it but I had a great time making it! I will definitely be being a murukku making home with me.
The next Deepavali preparation I participated in was creating a kolum. Kolum is an Indian art in which you use colored rice to create designs. Many Indian families will place their finished Kolums in front of their home as a Deepavali decoration. I had been a part of a kolum competition at my school before and was happy to get to try it again with my neighbors.
During Deepavali, many families will hold open-houses, which are big, catered parties that last all day long. We first went to a colleague of my host father's open-house where we ate a delicious lunch consisting of japati (an Indian bread), dull, masalas and other curries. In the evening, we were invited to our neighbor's very large Deepavali party. We stayed until around midnight playing with the children, setting off fireworks, and creating Indian, Bollywood dances. My favorite part of the evening was seeing everyone in their beautiful sarees and Punjabi suits.
---