---
From Morocco to Oman: An Interest Sparked by YES Abroad
July 11, 2019
By: Sophia Winkler, YES Abroad 2014-2015, Morocco
We asked an alumna to share about what she's been up to since her exchange year, and how her YES Abroad experience has led her to where she is now. Here is Sophia's story:

I'm a YES Abroad Morocco 2014-15 alumna, now attending McGill University in Montreal, Quebec, where I'm majoring in International Development Studies with a minor in Arabic. I'm currently doing an internship with the Department of State's Student Internship Program which allows American college students to intern at the Department of State in Washington, D.C. or at a U.S. Embassy or Consulate abroad. This is my second time in the program. Last summer (2018) I was in Rabat, Morocco and was an intern in the Public Affairs Section, where I got to work with American and Moroccan exchange students. This summer, I am in Oman, working as an intern in the Consular Section at U.S. Embassy Muscat, where I'm learning about U.S. immigration law and visa security and processing. For the second half of my internship, I'll be interning in the Regional Security Office.

My YES Abroad exchange year in Morocco sparked my interest in the Middle East and North Africa (MENA) region and gave me a starting place for my continued Arabic studies. I was interested in coming to Oman this year because of the stories that I had heard from the YES Abroad Oman students' experiences during their exchange year. My YES Abroad cohort, 2014-15, was the last year to include Oman as a YES Abroad country, and some of my close friends I met through the program spent their year there. During the year, I kept in contact with them, learning about a country whose name I had never heard of before YES Abroad. It seemed that, even though we were all in the same region of the world and learning Arabic, the YES Abroad Oman students had a drastically different experience from us in Morocco. I became interested in learning more about the internal variation within the MENA region – not the monolith it is so often referred to as. After YES Abroad, I spent a gap year as an au pair in Izmir, Turkey, and many of my classes at McGill University have focused on the Gulf region. So, it made sense to apply for this internship in Oman.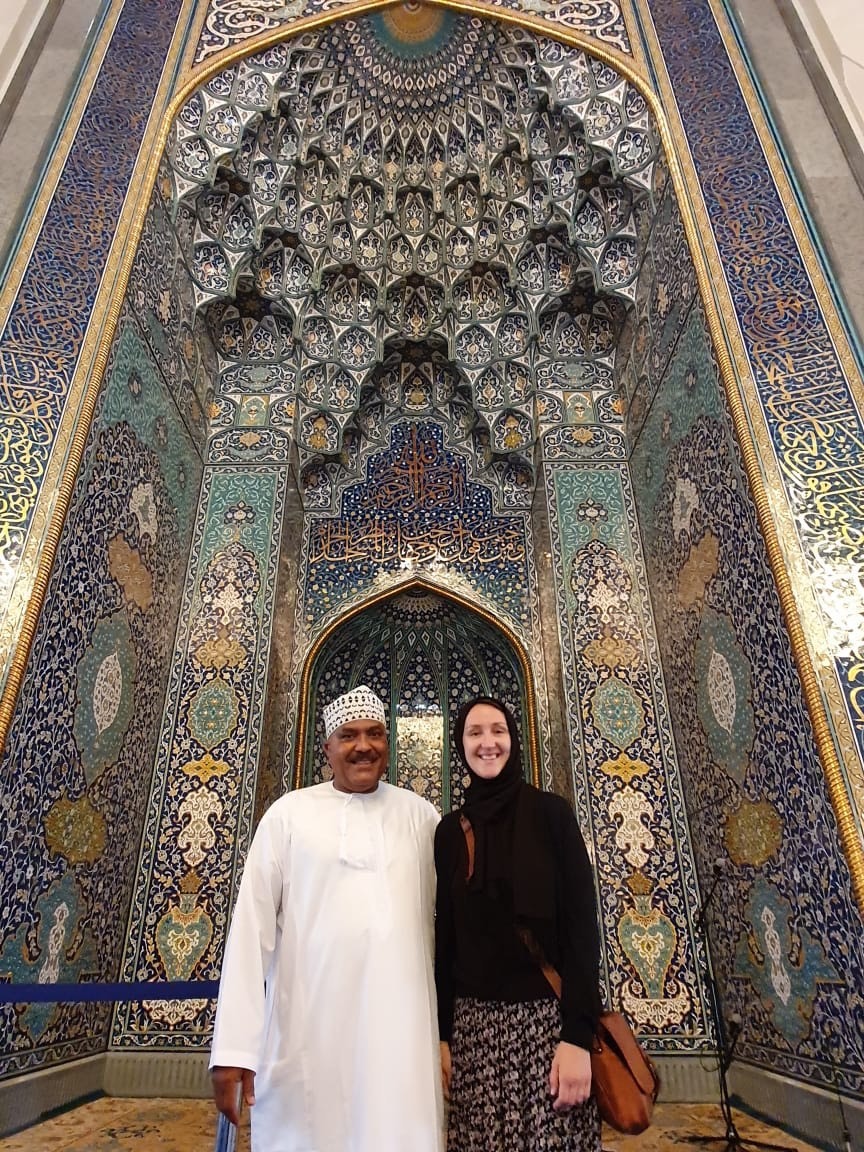 Since beginning my internship in Oman, I've found an incredible connection: the Omani host father of Ginya Marr, a lifelong friend I gained from YES Abroad and who is from my hometown and spent her year in Oman the same year I was in Morocco, is my coworker at the U.S. Embassy Muscat! Her host father, Salem, is one of our many hardworking Locally Employed Staff (LES) members, and he was of course very surprised when I introduced myself as a friend of his American daughter, Ginya, on my first day. Even though I am not an exchange student here in Oman, Salem has treated me like family since I arrived. He has shown me around the region, toured me through the local Grand Mosque, and invited me to Omani weddings with his family. With the combination of the "say yes" attitude I learned from YES Abroad and the connection I have to a welcoming Omani host family, I am lucky to able to learn about Omani culture directly while working at my internship here at the U.S. Embassy.
---