---
Global Youth Service Day Instagram Live Interviews
April 13, 2021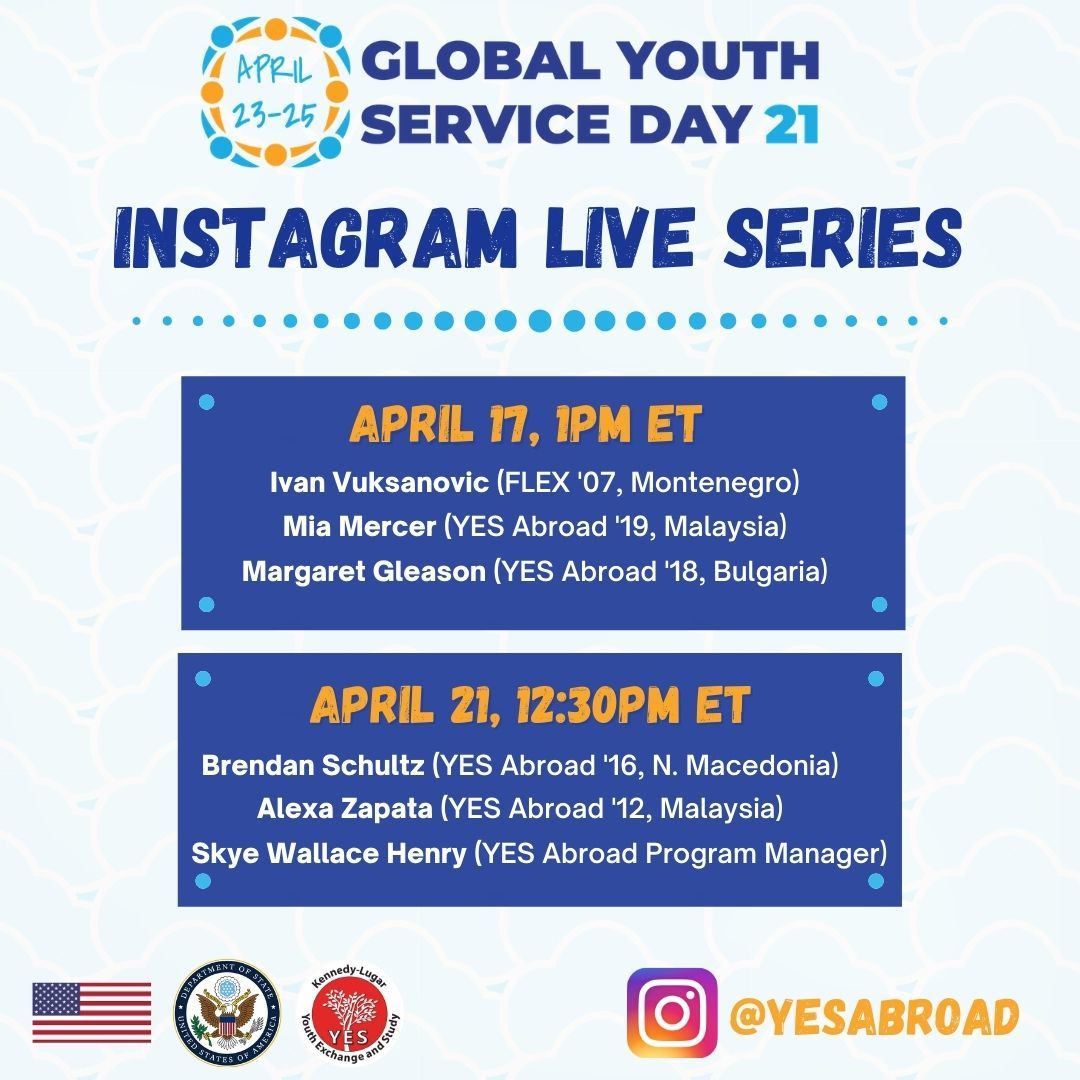 YES Abroad hosted a series of Instagram Live events to celebrate Global Youth Service Day 2021. Global Youth Service Day (GYSD), which took place from April 23–25, celebrates and encourages youth to make a positive change in the world by leading and participating in projects and activities that improve the quality of life in their communities.
YES Abroad hosted two Instagram Live events on April 17 and 21 to spread awareness about the impact of GYSD and encourage YES Abroad students and alumni to engage in this annual community service event. The events featured YES Abroad alumni who discussed how to develop and implement sustainable projects in the U.S. and abroad, and how other YES Abroad students and alumni can become involved in GYSD both virtually and in person!
Read more about the GYSD 2021 Instagram Live events below!
---
April 17 at 1pm ET: YES Abroad alumni, Mia Mercer (YES Abroad '19, Malaysia) and Margaret Gleason (YES Abroad '18, Bulgaria) will be joined by Ivan Vuksanovic (FLEX '07, Montenegro) to talk about developing and implementing sustainable service projects both virtually and in person.
Ivan Vuksanovic participated in the FLEX program in 2006- 2007. After his return to Montenegro, Ivan worked to establish the FLEX alumni community there and to connect young alumni across U.S. Government sponsored programs as the country's FLEX Alumni Coordinator. He is a founding member and first president of the Montenegrin American Youth Alumni Association (MAYAA) responsible for organizing many youth leadership camps and workshops supported by the Office of Alumni Affairs, ECA and U.S. Embassy in Montenegro. Now American Councils' Country Representative in Montenegro, Ivan coordinates the FLEX program, including overseeing the current FLEX Alumni Coordinator and alumni activities. He also oversees Lehigh Internship and OPIT programs implemented during the summer months. Ivan graduated from the University of Montenegro's Faculty of Law with a specialization in Business Law and is currently pursuing a master's degree in International Relations at Donja Gorica University. In addition to his role with American Councils he also serves as the Senior Compliance Officer and Assistant to the Secretary General at Erste Bank in Podgorica.
Margaret Gleason is an alumna of the 2017-2018 YES Abroad cohort to Bulgaria. While on program, she loved connecting with her host community through volunteering as an English and art teacher in refugee camps and in a local second grade classroom. That joy of teaching and giving back led her to start offering virtual Zumba classes for friends and family in March 2020 and they're still going strong today! She is currently living in her hometown of Eugene, Oregon, but is eager to return this fall to Washington, DC, where she is an undergraduate student at Georgetown University. Volunteering at vaccine clinics has been her small way of helping us all get back on track! The lessons of YES Abroad have been hugely influential in shaping Margaret's life post-program. She's excited to talk about the power of community service and connection on YES Abroad's Instagram Live on April 17th!
Mia Mercer is a 2019 YES Abroad Malaysia alumna and current high school senior from Louisville, KY. Mia will be attending Vanderbilt University in the fall. During her YES Abroad experience, she volunteered with AFS Malaysia and with her host family. She continued her path with service once she returned to the states by volunteering with AFS USA, ChefSpace Louisville, and with the GuardianOnTheGo Mask Initiative during the COVID-19 pandemic. She plans on implementing service as a main component in her life, and will be in the Naval Reserves Officer Training Corps in college to commission into the Navy afterward.
---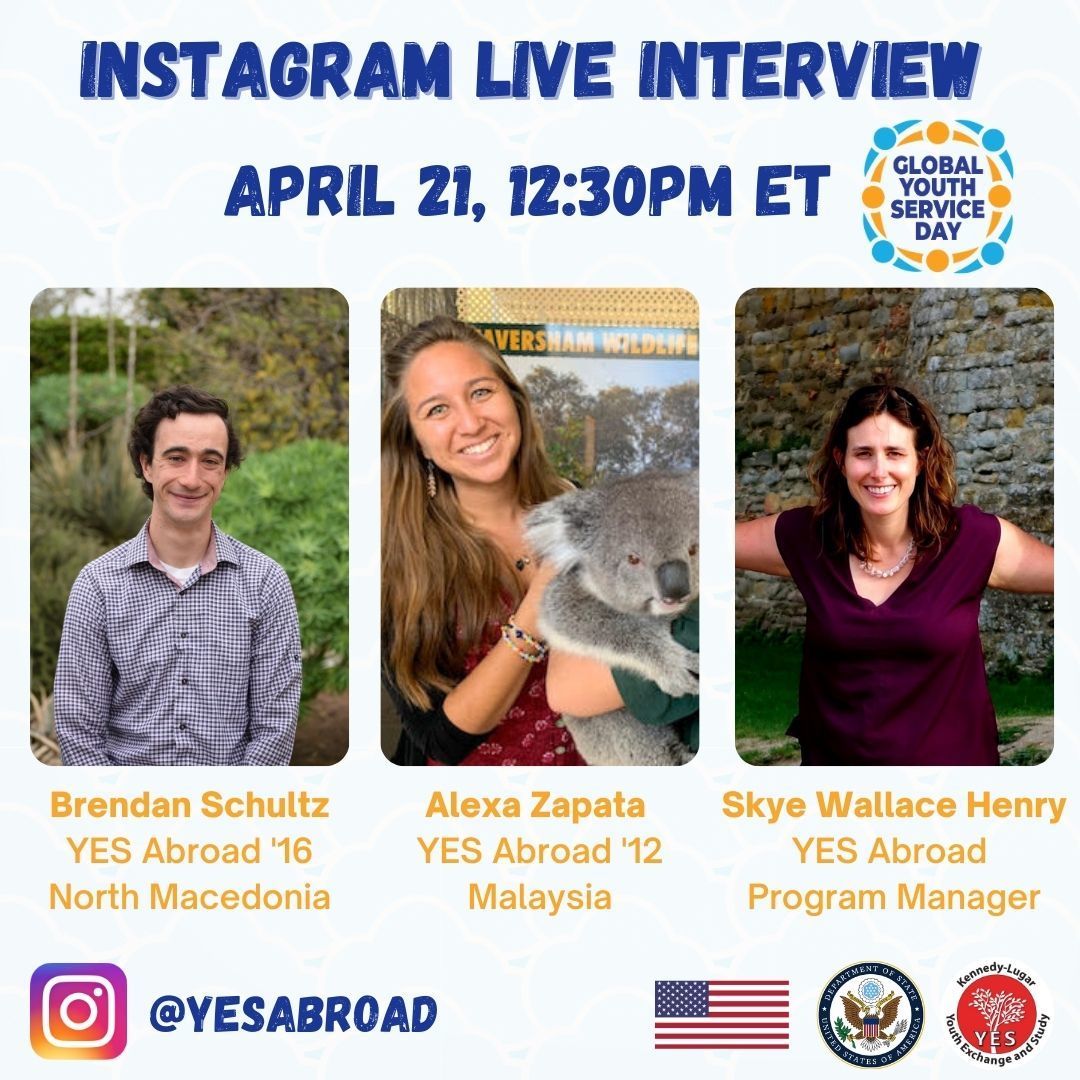 April 21 at 12:30pm ET: YES Abroad alumni, Brendan Schultz (YES Abroad '16, North Macedonia) and Alexa Zapata (YES Abroad '12, Malaysia) will be joined by Skye Wallace Henry, YES Abroad Program Manager at American Councils to discuss international community development and navigating foreign work environments.

Brendan Schultz is the founder and director of United by Love, a non-profit that works on grassroots social development for inter-ethnic cooperations among youth in Southeastern Europe and Hawai'i. Leading United by Love, he has received grants from the United States Department of State and Davis Projects for Peace. In addition to his work leading United by Love, Brendan has worked in humanitarian response, from teaching English in the West Bank to coordinating food insecurity response in Los Angeles. Brendan is a Hansen Leadership Institute Fellow, a Davis Fellow for Peace, and a YES Abroad Scholar to North Macedonia. Born in Hawai'i, Brendan grew up as the son of a U.S. Military Officer and has lived on five continents. He currently resides in the world's most isolated city, Honolulu. Despite living thousands of miles away from any suitable mountains, Brendan is an avid skier.
Alexa Zapata is an alumna of the 2011-2012 YES Abroad cohort to Malaysia. Looking back, her favorite memories were the holidays spent with her host family road tripping to the village where Ayah (her host dad) grew up. That small fishing community taught Alexa how important it is to preserve the beauty of the environment and its people's way of life. It inspired her to be more in touch with our global community and the environment we live in and went on to study environmental engineering at San Diego State University. After graduation, Alexa worked for Peace Corps where she taught STEM subjects to high school students in northwestern Sierra Leone. Since returning to the states last year, Alexa drove herself across the country and started another type of adventure, working full time for a building and zoning law consulting firm.
Skye Wallace Henry is the YES Abroad program manager and has worked on YES Abroad since 2012 and on youth programs more broadly at American Councils for International Education since 2008. Skye holds a Master's in international affairs from the George Washington University's Elliott School and has participated in several overseas programs, including as a Peace Corps Volunteer in Romania from 2003-2005.
---