---
It Snows in Jordan!
April 7, 2023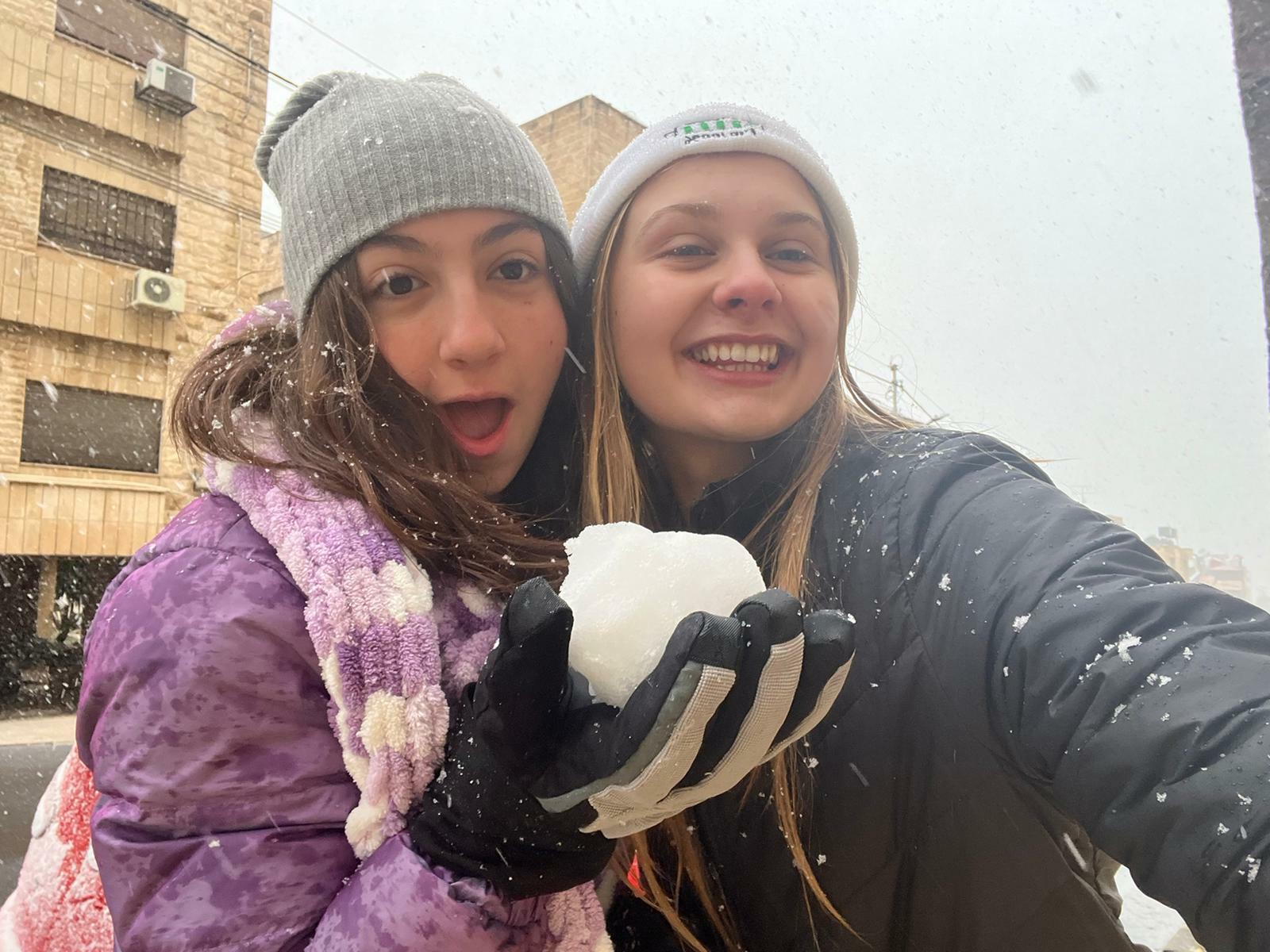 By Addison R., YES Abroad 2022-2023 Jordan
When I got my placement in Jordan, my first thoughts were desert heat, sand everywhere, and a scorching sun year round. I would never have thought of cold weather and snow in the Middle East. However, during my exchange this year, I found out that I was very wrong.
As someone who is not used to cold weather and the winter season itself, as I live in Hawaii, I was surprised when winter rolled around in Amman. The cold temperatures, winter jackets, having hot chocolate with my host family, and learning how to use heaters safely were entirely new to me. But when people spoke of possibly having snow this February, excitement filled the air. It doesn't snow every year in Amman and I was lucky enough to experience what a snow-day is like.
Not having a snow day before, I had no idea what to expect. Because of the freezing temperatures and possibility of snow, we had one snow day and two days of online school in February. The first day, when my host sister and I woke up, we raced to get dressed and up to the roof so we could see how much it had snowed that night. Wearing our beanies, coats, and winter boots, we went upstairs and were met with a roof full of snow. While the snow hadn't stuck in many places and there wasn't a lot, it was a beautiful morning that we got to experience together. Almost falling over, throwing snow balls, and taking pictures was such an amazing start to my first snow day. The next day when I had a break between online classes, I noticed that it was heavily snowing outside, I ran to my sister and asked her to go out with me. This time, we had decided to go downstairs and outside. The snow was sticking somewhat, and we could find it everywhere along the street. We had so much fun throwing snow at each other and waving and celebrating as cars passed by us. This lead to my realization that whether it's snowing heavily or just sprinkling, the people of Amman are filled with excitement and celebrate when they are lucky enough to experience it.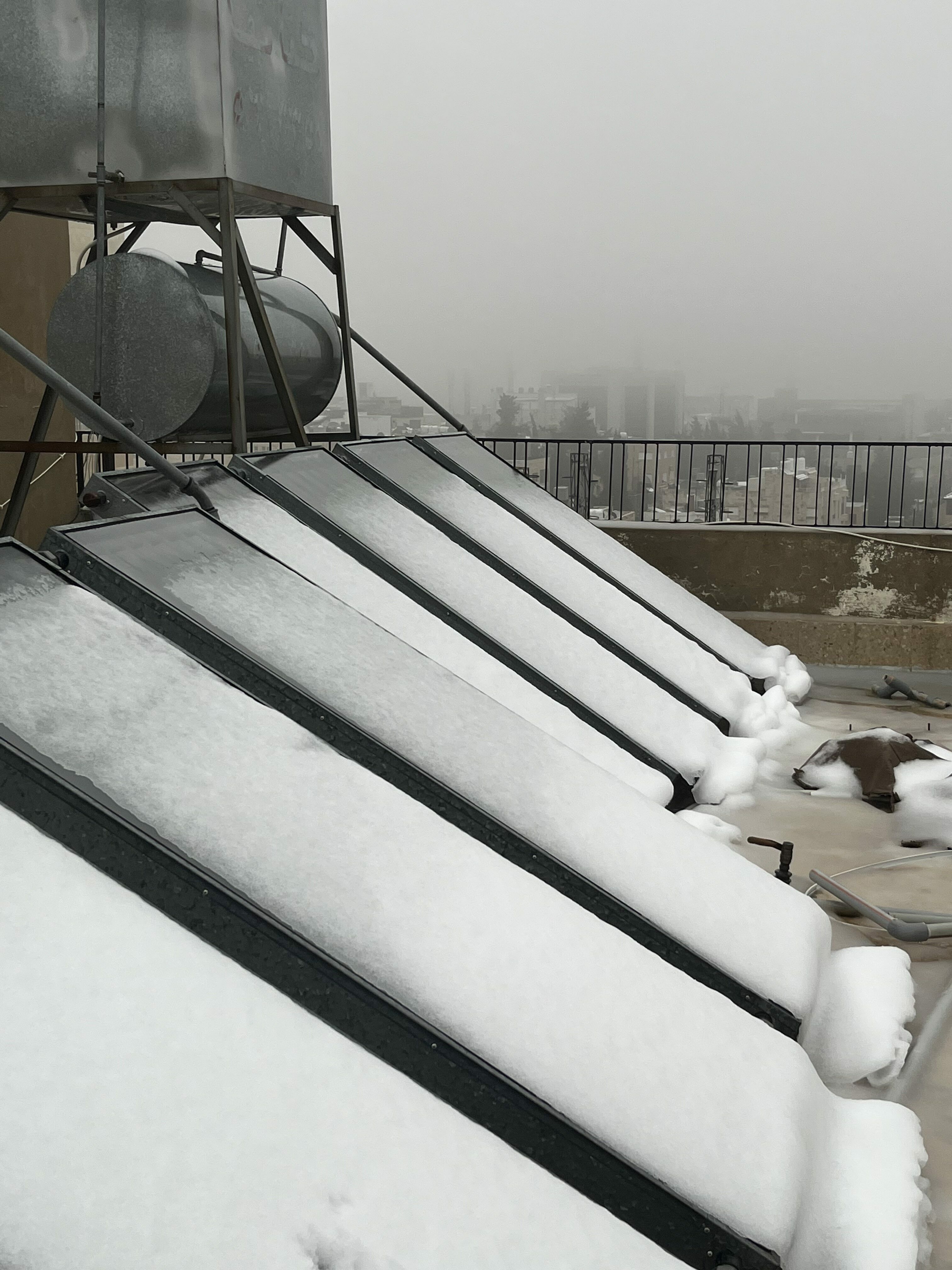 While the actual snow is the best aspect of snow days, there is so much more to enjoy. Having a huge breakfast with most of my host family, including my three host siblings, host mom, host aunt, and my two host cousins that live next door, was an amazing experience. We all hung out together throughout the day. Whether it was doing homework, eating, or playing games, I enjoyed all the time spent with them. The second and third day, when I had online school, we still made the best of the situation. My host sister and I would do our work and classes together on the kitchen table. We stayed in our pajamas and relaxed the whole day. Whenever we did go outside, afterwards we would rush to the heater and gather around it to keep warm even though we were soaking from head to toe. It made having online school a much more pleasant situation, than I had anticipated.

These three snow days had some of my favorite experiences and memories from my exchange year so far. Along with this, it made me realize that your expectations of what a place will be like will always be changed in the best way possible!
---