---
Learning About Clothing in Ghana
February 1, 2023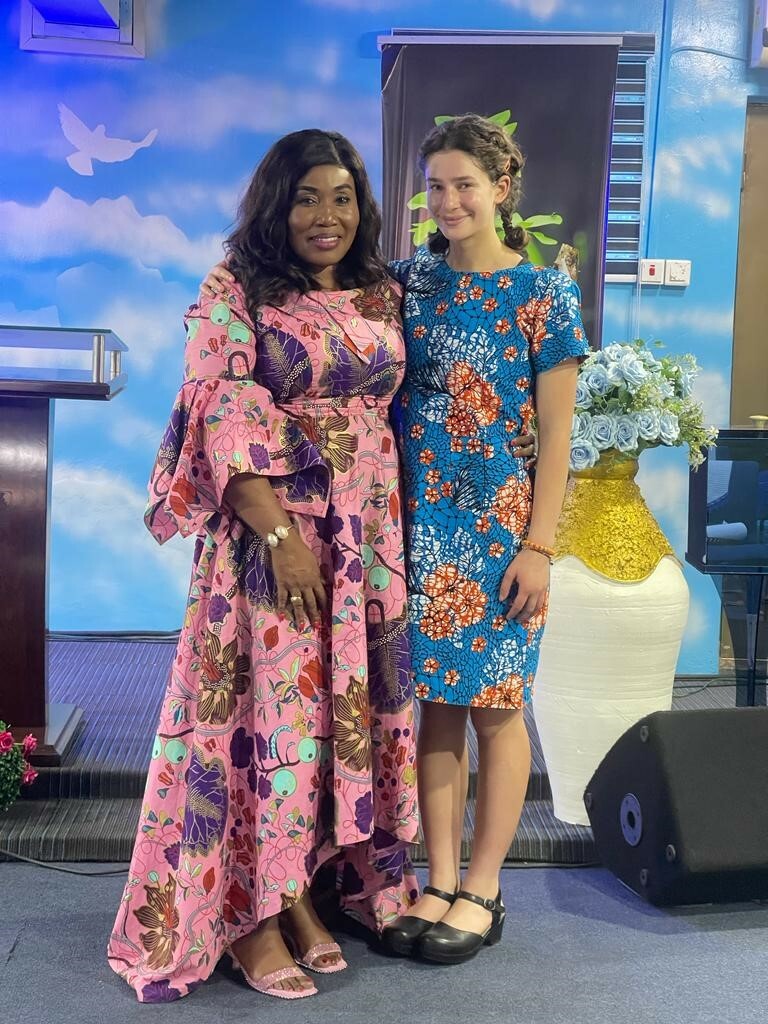 By Tahlia G., YES Abroad 2022-2023 Ghana
My typical morning begins with the sharp blaring of my alarm clock. The first click of my switch emits deep cobalt light. The second is a normal bulb, though my room remains in several shades of blue. My walls are painted a light azure and the shimmery curtains that hang over my two windows are patterned with sapphire flowers. The only non-blue bit of my bedroom, aside from the cream-tiled floors, is my bed, whose sheets are currently striped with yellow, dusty rose, and crimson. After brushing my teeth, I tie my hair back and slip into my school uniform, small white flowers in a rich forest of green. My sandals are simple, soft brown leather.

In Ghana, color is everywhere. From the bright murals of the Tetteh Quarshie underpass
commemorating influential Ghanaian women to the elaborate outfits of Sunday church-goers, color celebrates hope and freedom. In 2004, the National Friday Wear Programme was established, encouraging workers and students to wear traditional or Ghanaian-made clothing on Fridays. Many schools have a specially printed "Friday uniform," though some schools wear patterns every day. This program was established to support Ghana's textiles and garment industries, as well as show pride in one of West Africa's most famous forms of art: hand-colored fabric. In the past several weeks my YES Abroad peers and I have been learning about two traditional cloth dying techniques.

The process of Ghanaian batik, at our local artisan's studio, begins with a large piece of cotton cloth, usually white, laid over a wooden table. A deep metal pot of paraffin wax bubbles nearby. On the opposite side of the room, hundreds of foam stamps are balanced to form a wall of patterns. More are piled in the corner. A thick layer of dried excess wax forms a ring around the middle of each block. My stamps include an elaborate chicken and a spiral ocean shell. After choosing two more abstract stamps, one of the artists helps me dip and place the blocks. It is a meticulous process that feels like it takes forever and leaves me sure I made mistakes. I consider what color to use next while the others complete their patterns. The finished fabrics are laid in the grass yard of the studio to bake dry in the sun.
The second method is one we are more familiar with in the United States: tie and dye. However, in a typical, detail-oriented Ghanaian art style, there are many more methods than the swirl typical in the U.S. Our instructor's nimble fingers flip, fold, and tie the fabric. When I try to replicate her movements, I am not surprised by my lack of ability.
Tie and dyes are more than meets the eye—or the hands. After a thorough dousing of water, lots of scrunching, and a few spirals, my fabric is ready for the rainfall pattern. As I pour dye on my soggy cloth, the color seeps out of the edges and across the table, so concentrated it appears black. She urges me to use all the dye. When a drop lands on my finger, it stings. The inks we added to the mixtures fizzed up, leaving bubbles and an earthy, sour smell. Whatever the powders were, they have done their job. My fabric is raining emerald with streaks of dandelion yellow and bare white. Soon, one of the city's many seamstresses will sew this fabric into clothing, bags, and pillowcases.

In Ghana, art is not just for seeing. I think I gasped when I saw my host mum, a reverend, on my first Sunday. My family smiled pityingly at the plain blue dress I wore and promptly had a new one sewed for the next week. As my sense of style shifted, what I once thought of as overly formal has become a simple day dress. I fit in more with my host community by trying to stand out because here, clothing is art. It's for using and appreciating. It's not about changing, it's about embellishing and adding to one's stunning natural state. The best thing: it's easy to feel beautiful in Ghana when beauty surrounds you!
---