---
Lessons Beyond Music: Learning the Gamelan
May 14, 2020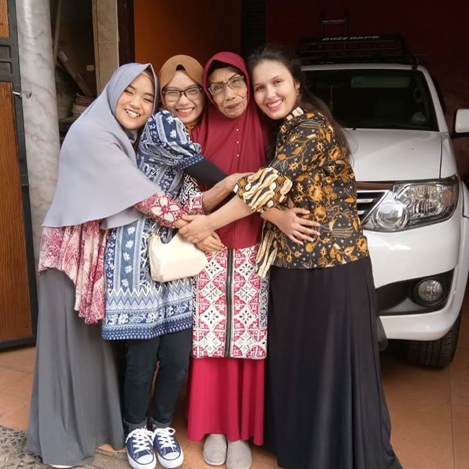 By Aurelia V., YES Abroad 2019-2020, Indonesia
"Ge lo ge nom, ge lo ge nom" the teacher sang and the class played like a well-tuned piano, except for me, who sat lost wondering what these new words meant -- much different than the "Satu, Enam, Satu Lima" that I had been told. It was my first day of Gamelan (Traditional Javanese music) class, and I was playing the Genong, a large instrument with many bells that is played by tapping each bell with a mallet. For this instrument, each bell is a different note, and despite the confusion I still enjoyed myself as I tried to keep up with my part, memorizing the one six, one five pattern that I had been given.
On the way to pick up my host mom after work, my host Dad, told me that the "Gee Lo Gee Nom" meant "One five one six" in the Javanese language, and then I set my mind to learning how to count from one through ten in Javanese. My younger and talkative host neighbor, who is like a little sister to me, was happy to coach me in this. She enjoyed quizzing me, and I was reminded of how it's the little moments when I learn the most about Indonesian culture.
Since that afternoon, I have learned my "Ge lo rus" or "one two threes" in Javanese. I have fallen in love with Gamelan. While I am not the best at my instrument, I love going to Gamelan on Thursdays because every time I make more progress.
Gamelan has been a great way for me to connect with people both in and out of class. I am usually in school with the same 30 people every day, and Gamelan has allowed me to meet people outside of my class. Some of my closest connections in Indonesia are with my friends there, as we bonded while working to memorize our parts. Gamelan is the true equalizer because there we are all learning!
I have even made friends from other countries through Gamelan. In October, my school hosted some Thai exchange students and we played Gamelan for them. That was my first performance and, while it was not perfect, it was a great learning experience. Afterward, we taught them how to play, giving me the opportunity to share about my host culture while we used our limited Indonesian to communicate with one another.
Another time, while on a short exchange to a rural village, I was able to visit the place where Gamelan instruments are made by hand. It was fascinating to see the metal sheets become hammered into the bells, and I had never thought of how my instrument was made. I connected with the craftsmen when I shared I could play the song, Genong, which they were delighted and surprised to hear!
While challenging, Gamelan has been one of my favorite parts of exchange, and I have learned so much from it. I am glad that I can now say that I know how to play!

---