---
Making Connections in Sarajevo
January 13, 2022
Eliana H., YES Abroad 2021-2022, Bosnia and Herzegovina, from Arvada, CO

I have been in Sarajevo, Bosnia and Herzegovina for three months, and I've already had enough wonderful encounters to compile a story. Of the variety of people I've met so far, my experiences with the elderly citizens of Sarajevo have stood out to me.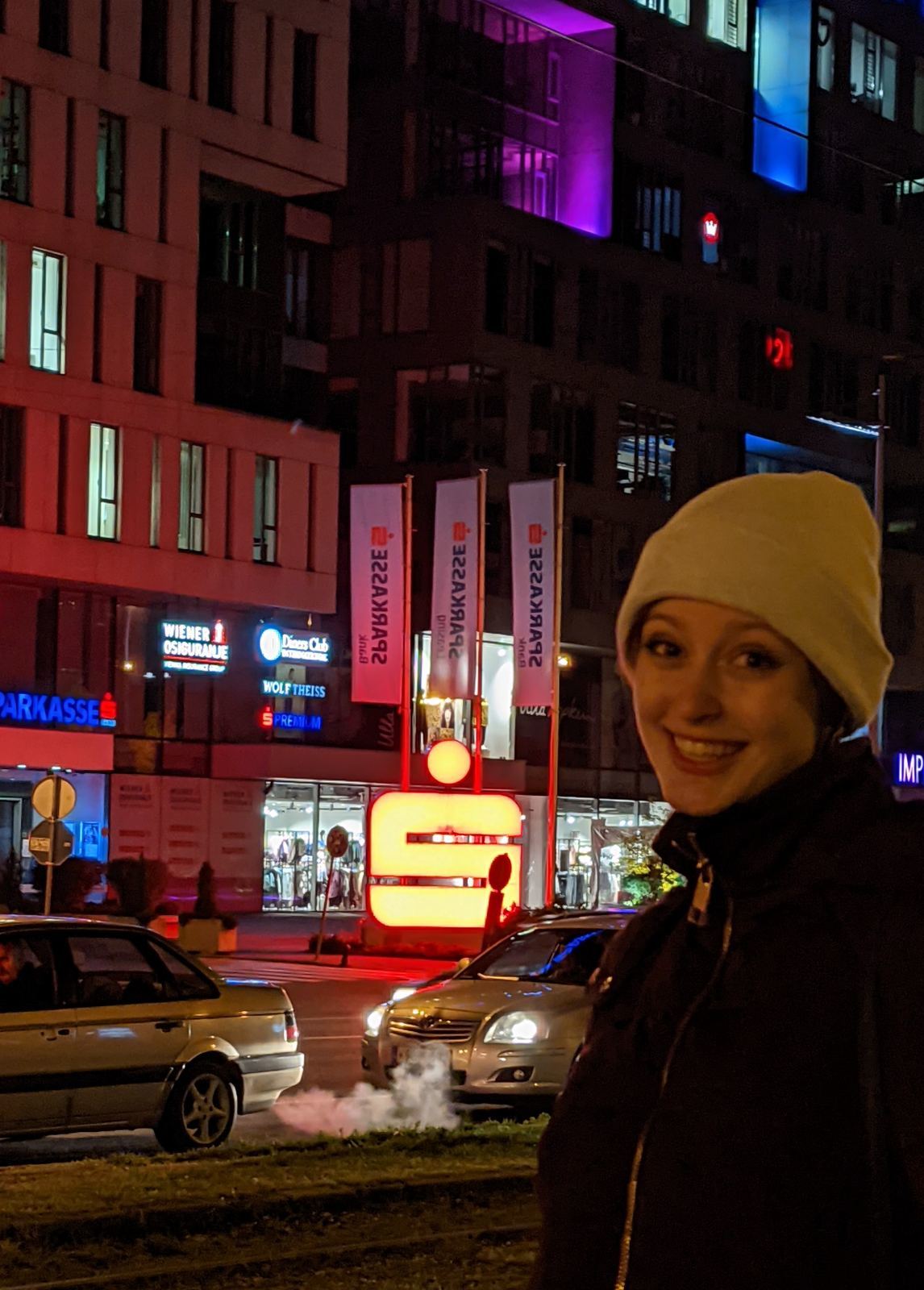 Just five hours before writing this, I was sitting in a café when I met a very memorable older lady. I had some time to kill in between school and Bosnian language lessons, so I wandered over to the old town, called Baščaršija, and sat down to have some Bosnian coffee, which I've grown especially fond of. I got my coffee and started pouring it into my cup when the lady next to me said something to me in Bosnian. I replied in Bosnian that I didn't understand her, and she asked me in English whether I was from here or not. When I told her that I wasn't, she replied, "I can tell because you're pouring the coffee wrong." She told me to wait until the grounds settled in the bottom of the cup before drinking any, and we had a conversation while I did. I learned that she was born in a city in Bosnia called Mostar and worked as a tour guide for years, where she learned to speak a variety of languages, including some English. It started to drizzle, and she taught me a joke about rain that translates to, "Why does rain fall? Because it doesn't have stairs!" We had a good laugh and eventually parted ways, but she told me that she frequents the cafes in the old town daily, and I'm hoping to run into her again in the future.

Coming from my background in Colorado, where people on the street are polite but don't often stay to talk long, the story above may seem like such a unique event. However, I had already experienced something quite similar the previous month.
There is a seventy-year-old man who owns a fruit stand on my way to school. One day, I stopped to buy two mandarins to take to school, and he insisted that I take them for free. I was very thankful for the mandarins and his kindness, so a few weeks later I drew a picture of some mandarins as a gift. I think art is a great bridge between languages, and as an artist I enjoy making people happy with what I can create. I rehearsed my line in Bosnian explaining that I drew the mandarins for him over and over in my head before working up the nerve to give him the picture. He was very happy with it, and I was glad to be able to return the gift.
Those two interactions were very interesting for me to experience, and I've had a number of additional small ones besides those. I interact with an elderly woman at my school who takes every student's temperature when they enter the building; I always say good morning to her, and she smiles at me. I also like spending time with my host grandparents, who are very patient with me as I try to speak in Bosnian. Overall, I've found the older generation of Sarajevo to be very interesting and enjoyable company. Their pace of life and outlook differs from that of the younger population. I'm excited to continue getting to know my host community and keep learning from them.

---