---
November American Abroad Student of the Month: Gregory Reimon
December 28, 2017
Gregory Reimonn, a Kennedy-Lugar Youth Exchange and Study Abroad Program (YES Abroad) participant is the November 2017 American Abroad Student of the Month. Hailing from Massachusetts, Greg is currently studying in Sarajevo, Bosnia and Herzegovina. Greg has so far shown that he is a responsible, mature, and diligent YES Abroad participant who continuously takes initiative in his host community.
Since his arrival to Sarajevo in mid-August, Greg has already volunteered over 50 hours through his efforts on promoting the United States around his host community, including volunteering twice per week for the English Club at a community center in Butmir, a small neighborhood of his host community. Greg has also been assisting during English language classes at a local middle school and has started a pen pal project between this school and his former elementary school in the U.S. According to the teacher at the school, her students are so impressed with Greg that his visits to their class are something they all eagerly look forward to each week. Greg launched the pen pal initiative during International Education Week in November 2017.
Greg's Bosnian/Croatian/Serbian language skills have been particularly impressive. He is already able to hold fluent conversations with native speakers and has shown extraordinary progress in writing the languages as well, especially considering that he has been in Sarajevo for just over three months. Greg credits his language skills to hard work, assistance from his BCS teacher Asmira, and communication with peers at his host school and his host family. Staff at Greg's host school, Četvrta gimnazija in his neighborhood of Ilidža, are impressed by his great language and social skills. According to his teachers, Greg is fully immersed in his classes, including his Bosnian language class that was designed for native speakers. According to his teacher, Greg has managed to write an analysis in BCS on Russian literature and did it very successfully this semester.
For his capstone project, Greg plans to focus on exploring the differences in ideologies of Bosnian youth who were not directly affected by the war, but who live in an environment where the events of the war still dictate the rules of their society.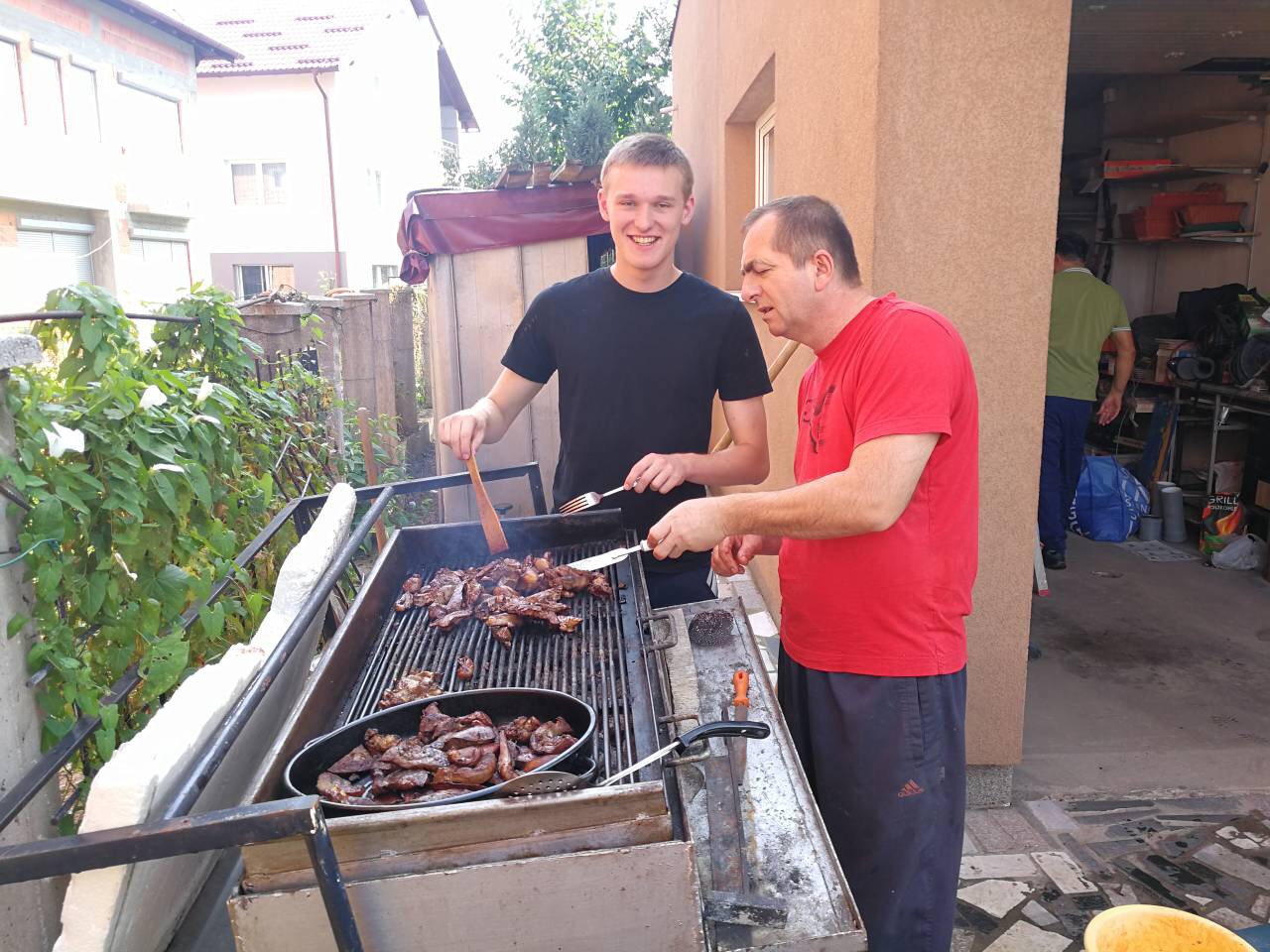 (left) Greg with his host dad.
Greg spends time bonding with his host parents and two host brothers as well as many extended family members and friends in Ilidža. In his free time, together with friends from school, Greg joined a local swim team called "The Sharks". Greg's host family is particularly proud of all of his accomplishments and have nothing but words of praise for him. They state that Greg's mature, responsible, and adaptable behavior make him a wonderful addition to their family and are looking forward to hosting him for the rest of the program year here in Sarajevo.
Congratulations, Greg!

---