---
A Page by Paige Guide to Banja Luka
August 18, 2015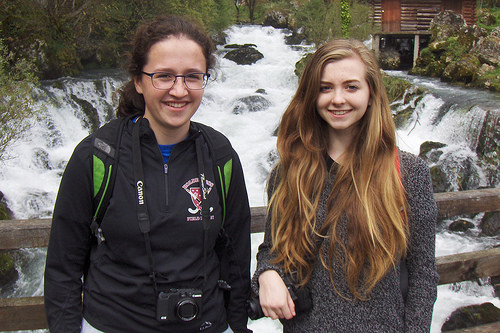 (Paige, left, at the Vrbas River rapids near Banja Luka.)
YES Abroad Student: Paige Pfenninger
Capstone Project: A Page by Paige Guide to Banja Luka
Paige arrived in Bosnia and Herzegovina as part of the first YES Abroad group to be placed in Banja Luka, a predominantly Serbian Orthodox city in the north of the country. Everything was completely new, and she had many questions. In fact, she'd had many questions in the months leading up to her departure, but couldn't seem to find the answers she was looking for.

"YES Abroad has been sending students to Bosnia and Herzegovina since 2012, but all of the students up to this point had been placed in Sarajevo," she explains. In addition to tips and advice from alumni, Paige pointed out that future students coming to Banja Luka were at another advantage: Sarajevo is the capital of Bosnia and Herzegovina, and there is much more information available online about Sarajevo than there is about Banja Luka.

Once in country, many days were spent searching for American snacks, trying to find the best café, observing the correct clothing attire for school, and learning from crucial mistakes—all things that are usually imparted from one generation of exchange students to the next.

"Living in a foreign country is scary, especially as a teenager, and I honestly knew almost nothing about Banja Luka before I came, which made me much more nervous to leave the United States."

After some time, Paige realized that an amazing capstone idea would be to create a guide so that her findings would not only benefit her, but future exchange students to Banja Luka as well. In order to create the guide, Paige interviewed many local residents, including her host family, to learn more about her host community and its culture; in the end, she learned more than she ever thought she would at the beginning of her year.

"This guide also gave me a chance to reflect on my year in Banja Luka. I always knew that I was slowly learning along the way, but it never dawned on me just how much I had learned until I wrote [it]."

A Page By Paige Guide to Banja Luka was created electronically and is available to any and all future Bosnia YES Abroad students. Along with the twenty-three sections included in the guide, Paige encourages new exchange students to keep the guide updated and to add information along the way. In this way, it can serve as a living document that can change along with the times, the city, and Banja Luka-bound YES Abroaders who, like Paige, have questions and are in search of answers.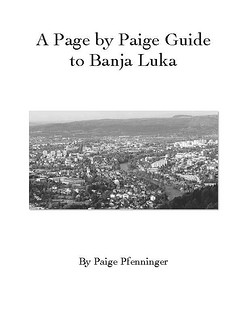 ---