---
Their First Weeks in Sarajevo
October 3, 2013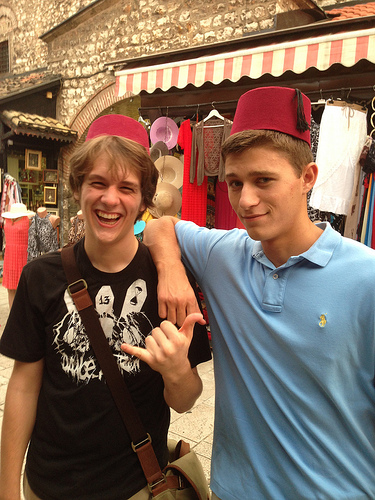 The second generation of YES Abroad program participants in Bosnia and Herzegovina arrived to Sarajevo on Friday, August 16, 2013. At the Sarajevo International Airport, students were welcomed by their host family members, a representative from the U.S. Embassy in Bosnia and Herzegovina, and in-country staff from American Councils for International Education.
Riley McCord, one of the YES Abroad arrivals, said, "When we landed in Sarajevo, it was smooth sailing from there! We all found our bags easily and got ready to meet our host families. There was a pause before we all stepped out into the main lobby, but once we did, it was a burst of hellos and smiles and hugs and pictures. I found my family and I couldn't resist giving them all huge hugs! It felt so wonderful to meet them and see their faces in person."
After a day's rest, the YES Abroad students attended an arrival orientation held American Councils' office in downtown Sarajevo, where they obtained an ample amount of useful information regarding safety, public transportation, school, city life in Sarajevo, and program rules and expectations.
Students' first week of programming in Bosnia and Herzegovina kicked off with a great start, as the six participants began their intensive Bosnian/Croatian/Serbian language classes, headed by a private language instructor Ema Hulusić. After their first day in language school, students began their official cultural excursions. Program participants had an opportunity to visit some of the historical and most famous cultural sites in Sarajevo, including the 16th century Jewish Synagogue (now a Jewish Museum), a 19th century Catholic Cathedral located in the heart of Sarajevo, the grandiose Gazi Husrev-bey's Mosque, and the Old Orthodox Church to name just a few. Following the excursion, students enjoyed traditional Bosnian cuisine—pita, filo dough filled with cheese, ground beef, pumpkin, or minced potatoes.
The YES Abroad participants continued their week meeting new people and hearing new perspectives on their new host country. On Tuesday, August 20 was a meeting with the U.S. Ambassador to Bosnia and Herzegovina and the consular, political, and public affairs sections of the U.S. Embassy in Sarajevo. The following day participants met up with a number of YES inbound program alumni who currently reside in Sarajevo. The YES alumni and the YES Abroad students visited famous sites in Ilidža, a suburb of Sarajevo, such as the Roman ruins and the spring of the Bosna River.
This year's students participated in a new activity, a scavenger hunt across the entire city, finding and photographing various institutions, objects, and focal points. The students had two weeks to collect all their tasks and learn to navigate Sarajevo by both foot and public transport, approach locals for directions, and see some of the most important aspects of such a diverse city. The winning team was that of Luke Drakulic and Riley McCord.
On Friday, August 30, together with 10 YES inbound program alumni, YES Abroad participants participated in their first community service project in Sarajevo. Together these hardworking young men and women helped to clean up Vraca Memorial Park, which is a city space dedicated to 11,000 World War II victims from Sarajevo.
The school year finally kicked off on Monday, September 2. Emma Morgan initially felt a bit nervous about her first day of school and meeting new friends at Druga gimnazija, the students' host high school in Sarajevo, but later said, "After homeroom a bunch of the IB student stuck around to introduce themselves to us. About 15 different people invited me for coffee, and for some reason I said yes to all of them! [Another YES Abroader] and I went to a cafe with a large group of our classmates, and they chatted with us. It was so nice to talk with Bosnians our age and not nearly as scary as I thought it would be."
Besides their program-related activities in the first two weeks, YES Abroad students enjoyed quality time with their host families. Together with her host family, Sarah Edgar had the opportunity to visit Livno, a small town in western Herzegovina, and even had an opportunity to go to Croatia to see the beautiful Adriatic coast. Sarah noted just how gorgeous Livno was: "I saw a beautiful sunset tonight, and the mountains here just add to the beauty of the sunset."
Check out some photos from their first few weeks below:
---