---
YES 15th Anniversary: Connecting the World!
May 28, 2018

The YES program kicked off a yearlong celebration on January 1st with the debut of a commemorative 15th anniversary YES logo (see below) and 15 days of fun, facts, and trivia.
The winning logo was created by current YES student Muhamad Cakra Dwi Putra from Indonesia (hosted by PAX in Missouri). Thank you to everyone who participated and voted in the logo contest, and great job, Muhamad! Add the special logo to your Facebook profile as an overlay.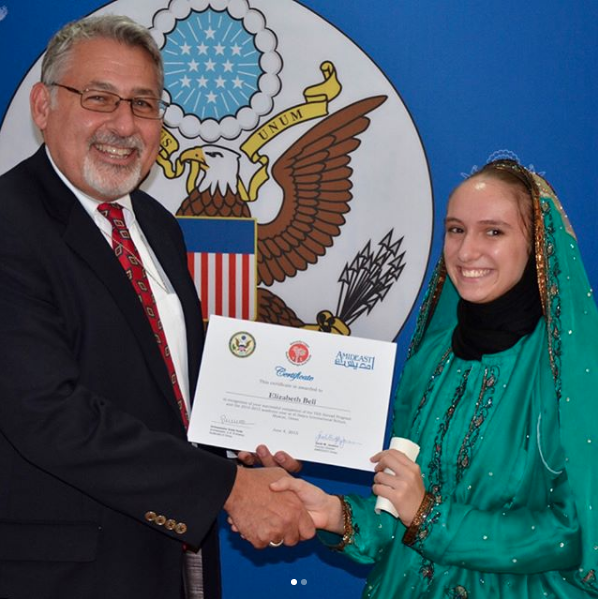 Interested in what it's like to be a YES Abroad student?
Follow YES Abroad (@yesabroad) on Instagram to get a sneak peek into students' lives on program all over the world as they takeover the account throughout the year!
You can also follow YES Abroad (@KLYESAbroad) on Facebook to see different YES Abroad alumni answer rapid-fire questions about their most meaningful YES Abroad moments, how they've changed, and where they are now. Watch Rachael, YES Abroad 2014-2015 alumna, talk about her time in Sarajevo, Bosnia and Herzegovina below!
Finally, there is a new hashtag for this special event – #KLYES15 – in addition to YES and YES Abroad's usual hashtags (#YESAbroad, #KLYES, and #YESAlumni). The hashtags will connect you with the rest of the celebrants! We hope that you will follow YES social media as we celebrate 15 years of program successes together.
What should I post?
If you are part of the YES alumni community: Post memories from your YES Abroad year and how it changed your life. Share information about YES Abroad alumni activities you have participated in and plans for future YES Abroad activities. Thank the people who made a difference in your YES Abroad year.
If you are a current YES Abroad student: Post your favorite moments with your host family, your host community, and your host school. Share your thoughts about how YES Abroad has impacted you thus far. Post about things that you are looking forward to during the remainder of your year!
If you are a host parent, local coordinator, or volunteer: Share stories about your YES Abroad student or cluster of students, send a shout out to your past or current students, or share why you became involved with the program. How has YES Abroad impacted your family?
If you are a natural parent: Share stories about your YES Abroad student, send a shout out to your son or daughter, share how the program positively impacted your son or daughter, or share why your family is still involved with the program.
If you are a representative from an organization that works with the YES Abroad program: Tell us why you enjoy working on the YES Abroad program and with YES Abroad students.
If you still aren't sure how to contribute to the conversation: You can answer the question, "What does the YES Abroad program mean to you?" Post about how you are affected by the YES Abroad program and how the program has inspired you. Be creative!
---