---
YES Abroad Alumnus Accepted as Schwarzman Scholar
July 17, 2020
Congratulations to Anirudh "Ani" Suresh (YES 2013-2014, Malaysia) for being accepted as a Schwarzman Scholar! In an interview with the YES Abroad program, Anirudh talks about his experience on the YES program and how his exchange experience ignited his career and passion for intercultural exchange and citizen diplomacy.

Where did you study with YES Abroad and what did you learn from your exchange experience?
I studied in Malaysia during the 2013-14 school year, spending most of my time with my wonderful host family in Ipoh but also experiencing life in Kuala Lumpur, Johor Bahru, and Singapore, among other places in the country. I got so much out of my exchange experience in terms of skills and insights that have translated to present day, but speaking with regard to the ones that most immediately manifested during and right after the year, I gained two critical things. First, I developed a conviction in the power of face-to-face interaction and citizen-to-citizen diplomacy to dispel harmful misconceptions and stereotypes and facilitate mutual understanding among people from very different backgrounds. Additionally, I gained a greater cultural fluency, not just with regard to Malaysia but rather more broadly, as I had the opportunity to interact with and learn from exchange students, volunteers, and travelers from all around the world over the course of the year. The conversations and experiences I shared with these people prepared me to engage with similarly internationally diverse communities in college and in the various forums I've been a part of in the years since.

What is your fondest memory from your time on YES Abroad?
Perhaps not a single one but instead a collection of memories that represent the power of the relationships I formed in Malaysia. On my last day of school, my classmates presented me with a wooden stenciled frame of Ipoh with all their signatures on the back--I've had that board on my wall for the last six years, and I've kept in touch with my friends as we've graduated high school and now college. Similarly, I've kept in touch with several other YES Abroaders in my cohort, and the strength of those bonds founded on our shared experience never ceases to amaze me. There are also so many memories with my host family members--I visited them in Malaysia a few years after my exchange, and I recall how reconnecting with them tapped into a strong burst of nostalgia and reminiscence. Some host family members have visited me, including in the U.S. and while I was volunteering in China, and these moments have helped me realize that the community born out of a YES Abroad experience can persist and grow beyond the year abroad.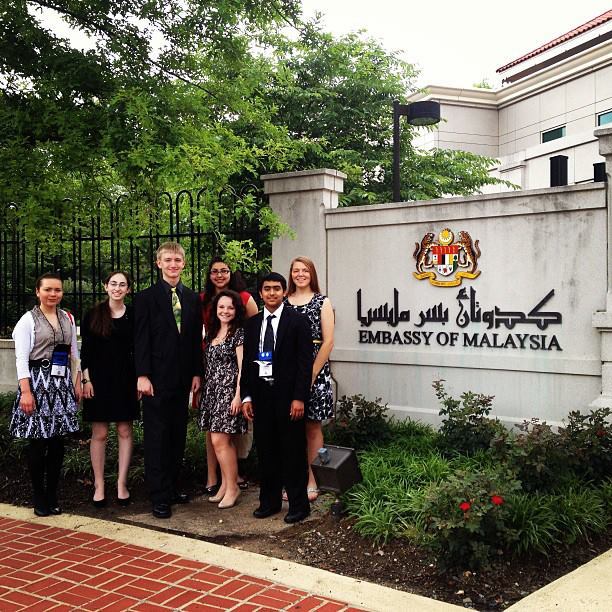 How has YES Abroad impacted your career thus far?
YES Abroad has set me up to engage in citizen diplomacy and intercultural education to an extent I would never have thought possible. In the aftermath of the program, I worked with AFS back in the U.S. to facilitate the experiences of exchange students here, and in college, I've worked on a lot of initiatives whose core ideals mirror those of YES Abroad. Among them, I've organized educational and intercultural conferences around the world, volunteered with initiatives locally in the U.S., and promoted dialogue and exchange at my university's Institute of Politics. The spirit of all these endeavors is something I've become heavily invested in and convinced of as a result of YES Abroad and the insights it cultivated in me, and I'm excited to continue fostering the theme of inquisitive dialogue and exchange in the future.
What motivated you to apply to the Schwarzman Scholar program and what do you hope to accomplish through this opportunity?
Outside of my passion for intercultural exchange and citizen diplomacy, my academic focus is largely in machine learning (ML) and artificial intelligence (AI), owing to my deep interest in math and computer science. My interest in going to China largely centers on learning from China's AI scene, given its significant differences from the American environment in terms of policy, entrepreneurial spirit, and demographic characteristics. At the same time, China is so different from the West in so many more ways than just technology, and I'm curious to explore and compare America's and China's divergences in the realms of culture, language, governance, education, etc. My academic passions definitely played a pivotal role in opening my eyes to this opportunity, but my interest in learning about China extends well beyond a single field or topic.
What are your future goals?
Once again, they're twofold. By combining the insights I gain from abroad with my experiences with and knowledge of the domestic AI ecosystem, I hope to promote safer, more understood, and more socially impactful forms of AI. At the same time, I aim to continue formally and informally promoting intercultural learning and citizen diplomacy as lifelong pursuits that everyone should engage in. These two areas may seem bifurcated, but I've already seen so much interplay between them, from math, science, and tech being powerful diplomatic tools in geopolitical contexts to there being a need for greater cultural and social awareness in pockets of tech. Bridging these two interests of mine to create positive change in both fields is a good encapsulation of my future goals.
---