---
YES Abroad Celebrates #IEW2017!
November 22, 2017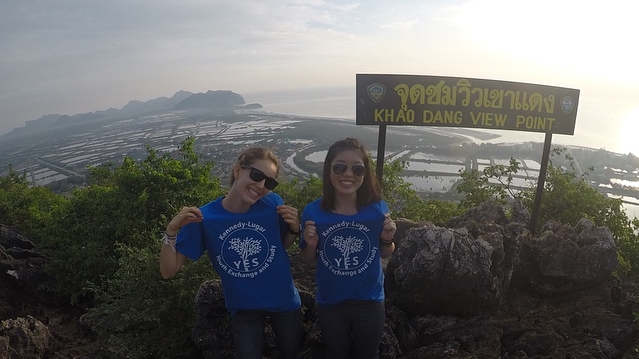 As exchange students, YES Abroad participants are constantly learning about their host culture. However, during International Education Week (IEW), they are encouraged to teach others about their life at home or to share their exchange experience in some way. This year, IEW occurred from November 13-17. To celebrate, YES Abroad participants took part in over 130 different activities and reached over 2,400 people around the world!
Some of the more popular ways to participate this year were teaching English, cooking food from home, presenting about life in the United States, making videos or blogs about the importance of international exchange, and even skyping classrooms in the United States to share about their experience on program. In fact, over 25% of YES Abroad participants spoke virtually about their host countries and YES Abroad to classrooms all around the U.S.
Over the course of the week, participants really showed how dedicated they are international education. Sylvie A. in Thailand woke up in the middle of the night to connect with 7th and 8th graders at her old middle school at 2 AM Thailand time! "It was quite an incredible feeling to be able to share my experiences with them and let them know this could be possible for them too! I imagined what it was like to be in their place just three or four years ago, and I never dreamed of being where I am now. But opening their eyes to an opportunity like this made me feel like I could make a difference in the lives of students, just by saying a couple words and sharing a few stories!" Elisabeth A. and her host sister in Indonesia woke up at 4 AM to do a Facebook Live event, and then Elisabeth made presentations about life in the United States at three different local schools over the next two days! You can watch her Facebook live event below!
Some students used IEW to build enduring ties between their countries. Greg R. in Bosnia and Herzegovina is starting a pen-pal program between is old school in Massachusetts and a local elementary school in Sarajevo. He visited this school during IEW and reported, "My favorite memory was seeing how excited many school children were to meet an American student.
Students at a local elementary school are going to have the chance to write letters to my elementary school in the U.S., and this week I was able to visit their classrooms and talk about the project with them!"
Many YES Abroad participants found out that even small efforts can have a big impact. Caroline H. in Jordan shared a post about IEW on Facebook and later reported, "After I posted on Facebook, more friends messaged me and told me that they were considering exchange. This brief post allowed me to share my experiences on a deeper level with a few individuals, which is awesome!" In Ghana, Jillian M. said that there was so much interest in her presentation about America, she may need to schedule another one!
"We invited a couple of classes to come watch my presentation about school in the U.S. We expected some people would come, but way more came than we had anticipated and it was really encouraging to see how many people were interested in hearing me speak. I might even do another presentation outside of IEW, just to allow everyone interested to see my presentation."
Program participants were touched at the response they received for their events. Hanna H. in Morocco shared, "One of my Moroccan friends said to me that she had been waiting all her life to get the chance to talk to foreigners about their daily lives. It was really gratifying to know that she appreciated the event so much." And Mattison B. in Thailand shared, "It was empowering to know that I am here in Thailand for a purpose and that sharing my culture with others is beneficial."
Overall, IEW 2017 was a great way to bring home the importance of international education and cultural exchange to people all around the world, but also to demonstrate to YES Abroad participants just what an impact they have, not only within their host communities, but their U.S. communities as well. We can't wait to see what the next group of YES Abroad students will do for IEW 2018. Will you be one of them? #ApplyNow!
---