---
YES Program: A 20th Anniversary Celebration Webinar
January 11, 2023
In celebration of the 20th anniversary of the YES program, YES hosted a virtual panel discussion on Tuesday, January 24, at 10:00am ET, featuring alumni who reflected on their time on the YES Abroad program and how it has impacted their career and personal lives. In addition to these reflections, alumni and invited guests, including YES Program Officer Kevin Baker from the U.S. Department of State, had the opportunity to consider the importance of the YES Abroad program and international exchange and diplomacy more broadly.
This event also featured an announcement of the 20th anniversary social media campaign–specifically the alumni spotlight series set to launch in early February–as well as opportunities for the YES Abroad community to participate in the campaign throughout the year.
Thank you for joining us in celebration of international exchange, diplomacy, and connection through 20 years of the YES program by registering here. The webinar was open to all.
---
Adam Streeter participated in the inaugural cohort of YES Abroad in 2009-2010, spending the year in Tema, Ghana. After returning from Ghana, he studied International Affairs at George Washington University, specializing in Middle East Studies. Upon graduation, he received GW's Shapiro Traveling Fellowship which he used to travel to the Occupied West Bank for the two years following graduation -- while in the West Bank, he studied Arabic at Birzeit University and filmed an informational video for Palestinian applicants to the YES Program. He pursued a Masters in Politics and International Studies at the University of Cambridge in 2016 and spent several months in Djerba, Tunisia, where he wrote grant applications on behalf of Cozi, a Tunisian coworking space and startup incubator, before returning to the San Francisco Bay Area where he was born and raised. Adam now sells software for a tech startup in San Francisco and he loves staying connected with the YES community -- most recently at his host sister's graduation this year from pharmacy school.
Christine Odera, who will moderate the discussion, is a Kenyan, advocate for Youth Mainstreaming, Peace and Security and Human Rights. She has gathered over 7 years' experience in youth work, networks and alliance building, programing, advocacy, policy, negotiation, intercultural and experimental learning. Her understanding of Youth issues has propelled her into active engagement with organizations and governments in designing and influencing policy, programming and documentation of various youth issues including peace and security and education that has influenced more than 1.5 Billion Youth across the Commonwealth and the world. She has presented youth in over 5 high-level decision-making platforms speaking to Heads of Government and different stakeholders. She is a YES Alumni 2010/11 and also the program manager for School for International Training (SIT) Kenya program that focuses on Global health and human rights. SIT is a study abroad program that hosts Students from American universities to Kenya.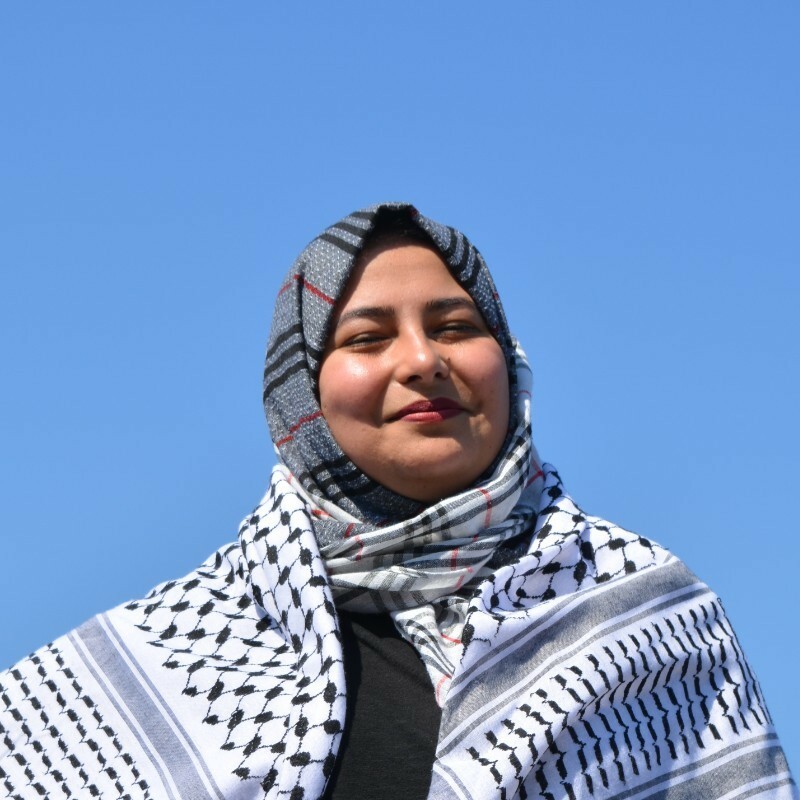 Heba Alsaidi is from Gaza, and in 2013 she was placed in Lake Stevens, Washington, where she spent the most life-changing 10 months of her life. The YES program left such an impact on her that for four years, she dedicated most of her free time to promoting exchange programs and helping international students around campus. She was also part of the committee that met with the Board of Trustees to request more funding towards exchange programs.

Heba majored in English Literature as part of the MEPI Tomorrow's Leaders Undergraduate scholarship at the Lebanese American University in Lebanon, and interned at the Office of International Students OIS of the Lebanese American University to help promote cultural exchange and study abroad opportunities. She graduated in 2020 and is now a freelance researcher/translator for an information company. She is currently working towards a career in International and Global Education, which is why she is part of a diverse number of programs that focus on cultural exchange.
Kevin Baker has been with the ECA since March of 2003, when he began working with the Future Leaders Exchange (FLEX) program. In the fall of 2004, he transitioned to the Kennedy Lugar Youth Exchange and Study (YES) program, where he is the lead Program Officer. He is also the Program Officer for the Workshop for Youth Leaders in English Teaching (WYLET) program for FLEX and YES students. Prior to joining ECA, Kevin worked abroad for 14 years with the United States Peace Corps in Senegal, Mauritania, Uzbekistan, Kyrgyzstan, Turkmenistan, Poland, and Mali.
---