---
Finding Her Path Through Giving Back
August 14, 2023
With a perennially positive attitude, Abigail T., a senior from Greenbelt, Maryland, found her way in North Macedonia through an unusual path: giving back.
Like with all participants, life on program wasn't always easy for Abby. She was able to have an impactful experience, however, by staying true to the goals of the program. She built a strong relationship with her host family through cooking American dishes, helping with chores, and simply being present with her family by making time for conversation or enjoying movie nights. Abby was equally engaged in school, earning straight A's while also presenting on American culture, joining clubs, and volunteering. She was even the founder of her school's very first Debate Club.  
One of Abby's primary goals during her year on program, however, was to have a positive impact in the community. Early on, she started volunteering at an English language program for ethnic Albanian children, where she taught, performed songs, organized creative arts and crafts lessons, and even celebrated holidays with them. In order to deepen her impact, she even began attending Albanian language classes in addition to her Macedonian classes, so that she could engage with the children in their native tongue.  
Abby shared, "At first, I saw volunteering as a continuation of what I already enjoyed doing back in the U.S. It wasn't until I started to see the impact I had on the kids I was teaching—and the impact they had on me—that I realized all that volunteering could mean." Volunteering abroad was an opportunity to meet new people, learn about the different cultures in North Macedonia, build close relationships, share my culture, and, above all, give back to the community that had welcomed me."
Over Christmas, Abby coordinated with an alum of the YES program from North Macedonia to spread cheer at a local nursing home by organizing a group, including fellow YES Abroad cohort members and students from a local school for children with visual impairments, to perform Christmas carols. After visiting the nursing home, Abby and the group decided to pay a visit to a center for children with Down Syndrome and continue the celebration.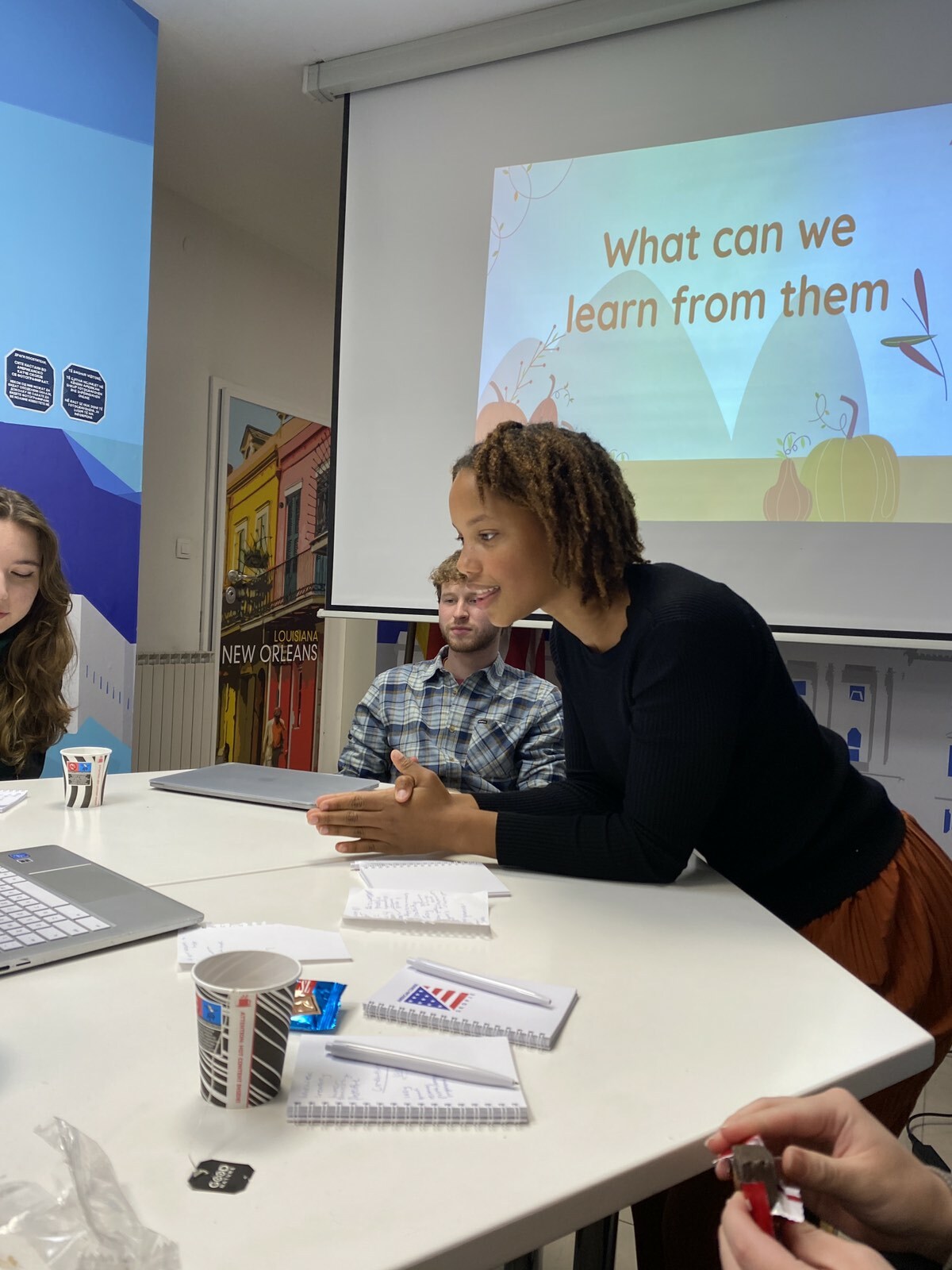 For Martin Luther King Jr. Day, often a day associated with public service in the U.S., Abby organized her own act of service event—a city park clean-up—with a local NGO with which she had made a connection. She also invited local friends and YES program alumni from North Macedonia, and the group collected and disposed of 20 full bags of trash. Through the outreach, a fundraiser, Abby raised100 Macedonian Denars for each bag collected to go toward the purchase of food, distributed to those in need by the NGO.
Abby also regularly attended and even organized events at the American Corner in Skopje, learning, networking, sharing her own passions, and often even collaborating with participants of other U.S. government programs or with local organizations. In one project on the topic of folktales, the audience heard five different folktales ranging from pre-European settlement America through American slavery to the American frontier and the era of industrialization. In the end, attendees created a folktale that reflected something they loved about where they lived and a message that they wanted future generations to remember. Abby added, "Because I volunteered at different organizations, I was meeting new people every day. They showed me, even more than I had already seen, how personable and caring the people of North Macedonia are. It didn't matter that I was a stranger who they might never encounter again, they would invite me to coffee and start a conversation. I learned of the incredible possibilities an encounter with someone you don't know could bring, and how to engage with unfamiliar faces."
Through her activities and involvement during her time in North Macedonia, Abby inspired those around her to get involved and give back, to learn more about the world around them, and to bring people around her together in the pursuit of new experiences, which is what YES Abroad is all about. Upon reflecting on her experience, Abby added, "There's this song I love, 'People Make the World Go Round.' For me, the lyrics summarizes my philosophy—the bonds humans create through mutual understanding are what 'make the world go round' and secure for humanity a better future."
---