---
Horo: Dancing My Way Through Bulgarian Culture
May 4, 2018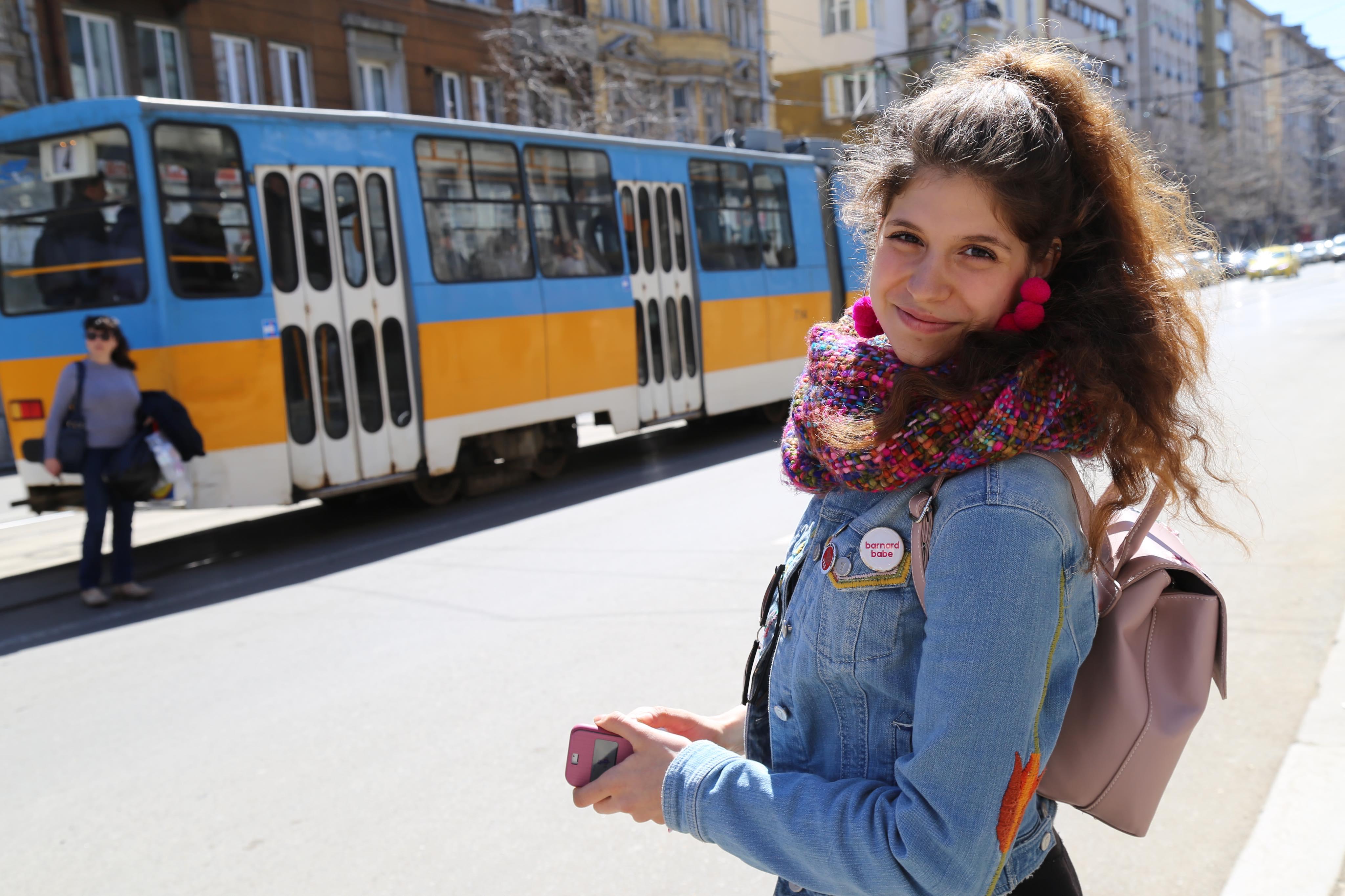 By Lily G., YES Abroad 2017-2018, Bulgaria, from Rochester, NY
I remember the first time that I heard the ringing of Biala Rosa (White Rose), the most well-known Bulgarian horo (folk dance) song, play at my host family friend's birthday celebration. After recognizing the song from the first few notes, the guests leapt out of their chairs, took hands, and began dancing. Their national and cultural pride radiated from their smiles as they participated in their country's centuries old tradition.
Horo is a huge part of festivities in Bulgaria. At all family gatherings and holidays you can expect at least one dance… and usually many more. It is such a big part of being Bulgarian that in schools there is often a traditional folk-dance unit in gym class. All Bulgarians, young and old, know the steps to at least the most basic dance—Biala Rosa.
This instance took place in October when I was a relative newbie to Bulgaria and still settling in with my host family. So, when my host mom beckoned me to come dance with the group, I was a bit hesitant. But then I remembered my number one duty as an exchange student: "Always say YES!" Time and time again, this sentiment has paid off.
Despite only being able to stumble through the simple dance moves and repeatedly tripping over my own feet, saying "yes" was the best decision I could have ever made. When the song ended with a flourish of Bulgarian traditional instruments and the dancers were clapping, my host mother hugged me and said, "Bravo, Lily, bravo!" and all I could respond with was, "I want to learn and dance more!"
A few months passed of forgetting my passion for traditional folk dancing and simply being too busy with that "high school exchange student grind." Then, around the middle of January, I went to my first real class with my Margaret, my fellow YES Abroader, in her little village outside of Sofia! After that single class, my spark was ignited once again and I went home raving to my host family about how fun horo is and how I want to learn more! Right away, my host family went on the lookout for a beginner's class that I could start in my neighborhood of Sofia. Like I said, horo is a big thing in Bulgaria, so every neighborhood has its own folk group that meets at least once a week.
At the beginning of March, I began going to a neighborhood horo class every Tuesday and Thursday. The first class was a little nerve-wracking, as it was taught solely in Bulgarian, composed of middle-aged women, and I had no previous experience with any sort of dance. Despite feeling a bit out of place at the beginning, I soon felt right at home with the realization that none of the other women knew beyond the basic Biala Rosa either and the entire group was so welcoming!
Since then I have been going twice a week, every week! Each class we practice the dances we learned the last class and then learn one to two new ones! Despite remembering the steps (sometimes), I can never remember the names of the specific dances. There are countless dances from different regions and cities in the country, and even some from Macedonia, Greece, and other Balkan countries.
I can tell how much it means to Bulgarians, especially my host family, that I love doing and learning horo. People truly appreciate when someone takes an interest in their culture. For my birthday, my host family asked our neighbor, a traditional Bulgarian shoe maker, to make me a pair of Tsarvuli, traditional Bulgarian dance shoes. They are absolutely beautiful and one of the most thoughtful gifts I have ever received. My host family gifted me them with the hope that I will use them in the U.S. and teach and share with them the beautiful Bulgarian dance traditions. By all means, I plan on doing this.
I often find myself saying, "Two years ago, never would I have thought I would be here doing this..." I could have never imagined that I would be in Bulgaria, wearing traditional Bulgarian dance shoes, dancing horo! Also, I never would have guessed that dance would be my gateway into another culture, having never been a dancer or particularly interested in dance beyond the likes of the TV show, Dance Moms.
Not only do I love participating in Bulgarian dance for the dance itself, but I also love the sense of community and the full immersion into Bulgarian culture and society I feel while holding hands with a circle full of the Bulgarian women.
This group has enriched my exchange so much. Not only does it give me another outlet to practice my language skills, but it also gives me the opportunity to form more relationships with Bulgarians outside of my school. It makes me feel like a true member of my little neighborhood in the big and expansive city of Sofia. Now, when I take the bus or trolley, I am starting to see people I recognize and can wave to and say, "Hello!" These small interactions and relationships have given me the acknowledgment I have needed to feel like more than someone simply floating through the city and, instead, like a real, recognized member of everyday society.
No matter how I am feeling—whether I am down, missing home, or just tired—every time I hear the first song of dance class, it completely transforms my mood. There's something about the song and how it embodies Bulgaria. It delivers the realization of how special the experience I am living is, and it reminds me of how incredible all of the little moments and opportunities that I have while on exchange in Bulgaria truly are.
---