---
My Bulgarian Thanksgiving
December 1, 2017
Photo above: YES Abroad participants and YES alumni celebrated Thanksgiving together at American Councils' office.
By Margaret G., YES Abroad 2017-18, Bulgaria, from Eugene, OR
This was the first year that I've been away from home on Thanksgiving. As I expected, it was strange and, at times, really difficult to not be with my parents, grandma, aunts, uncles, and cousins on a day usually dedicated to chatting, laughing, and eating with them. Despite this, however, I had a wonderful time at not one, but two fantastic Thanksgiving celebrations with my new Bulgarian family and friends! Though I was 6,090 miles away from those I spent my first 18 Thanksgivings with, the holiday was still overflowing with kindness, love, and community.
It all started Thursday afternoon when I went to my weekly hour volunteering as an English/cultural teacher in a local second grade classroom. When I realized I would have a lesson on Thanksgiving, I immediately knew what I had to do: hand turkeys! Every American kid does these at least once, or probably more like 30 times, in their life. They're easy and tons of fun, so it was the perfect way to introduce Bulgarian kids to this awesome holiday!
I started by explaining the history of Thanksgiving and how we celebrate it before showing them how to make their hand turkeys (photo on right). Then I set them loose to try it themselves! It was so sweet to watch them slowly figure out the concept and go from copying exactly what I had drawn to making their own wacky, colorful creations. At the end we talked about what we're grateful for and lots of the kids shared what they had written on their turkeys. It was one of the most wholesome things I have ever seen and the perfect reminder of what Thanksgiving is all about! Two of the girls even gave me their turkeys as gifts — they are now in a place of honor on my bedroom wall.
After I was done at the school, I met Nadya, my host mom, and we went to our first Thanksgiving dinner: a beautiful event at U.S. Ambassador Rubin's residence! In a demonstration of true generosity, he and his wife Nicole opened their home to Bulgaria's Fulbright scholars, YES Abroad students and host families, and missionaries from the Church of Latter Day Saints, as well as a few State Department and employees and personal friends (photo below left). It was a perfect night.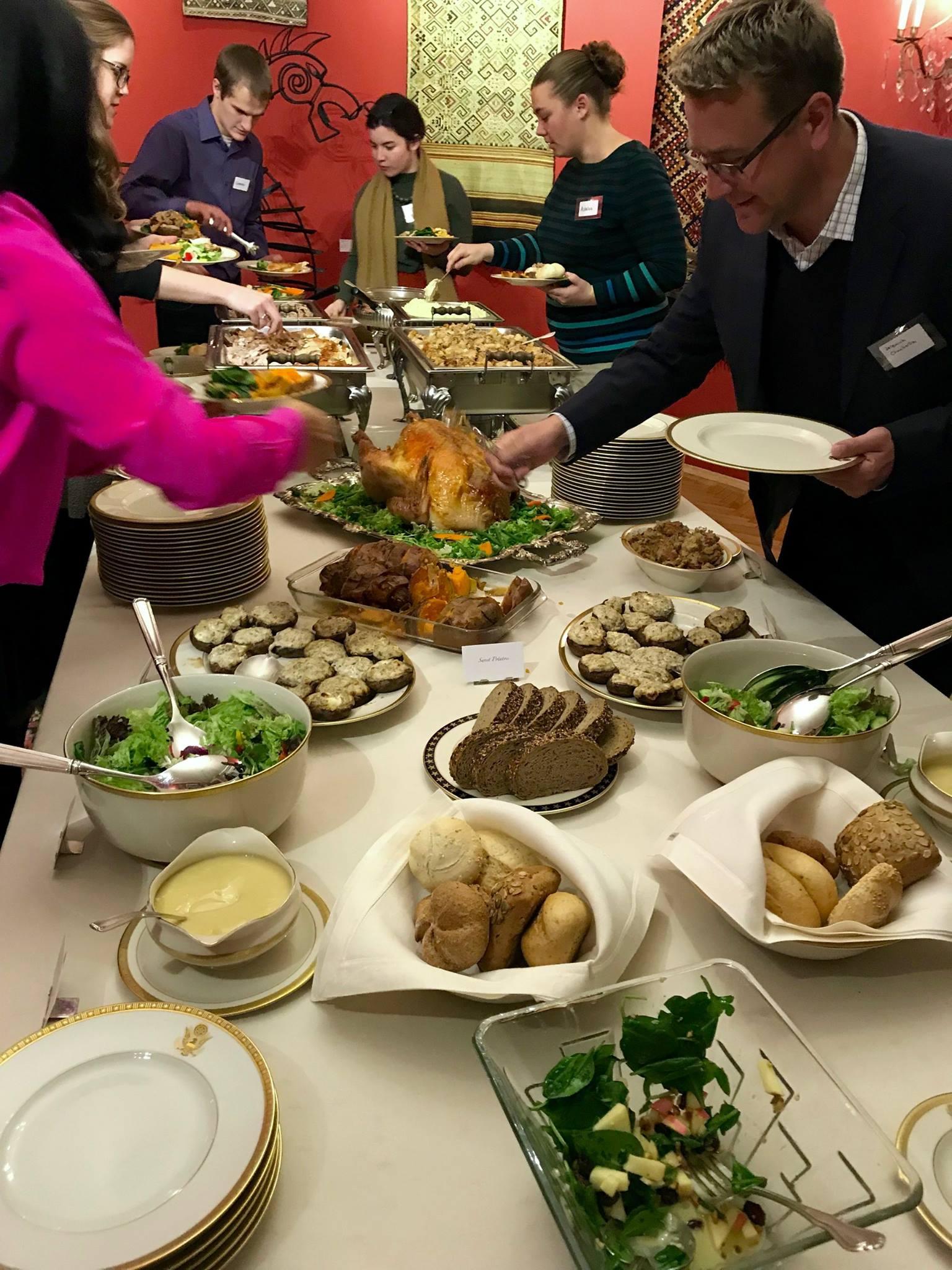 Our host families got the best possible introduction to traditional Thanksgiving fare, the other YES Abroad students (Lily, Makana, and Delaney) and I got to spend this most American of holidays with people who share our fond memories of Macy's Thanksgiving Day Parade balloons, watching football on the couch, and napping off our first food comas just so we can make room for dessert. Endless thanks to the Ambassador and Ms. Simmons for having us!
Our second celebration was a slightly less formal affair. Lily, Makana, Delaney, and I spent all day on Friday in the American Councils office whipping up our best approximation of a Thanksgiving feast for a party with our host families, our friends, and our amazing coordinator Jelena!
There was a lot of improvisation and making-do along the way, but we ended up throwing together some very tasty food, sweet decorations, and lots of fun (photo at right: YES Abroad participants preparing food for Thanksgiving at the office). Though Thursday night may have been a more traditional Thanksgiving, Friday's event had more of the holiday's heart: food homemade with affection and teamwork as a gesture of gratitude for those who have given us more than we can ever repay. By the end we were all stuffed with delicious food, but, more importantly, we went home full of love and laughter. To me, that's the very definition of Thanksgiving!
It wouldn't be a Thanksgiving post without a long declaration of gratitude. I have more to be thankful for this year than I can even begin to put into words, but I'll do my best. I'm grateful beyond belief to: YES Abroad and the U.S. Department of State for giving me this opportunity; to my incredible parents for supporting and loving me unconditionally, even when I choose to live halfway around the world from them; to Nadya, Ivan, Vili, and Simeon for being the most welcoming and wonderful host family I could have dreamed of; to Lily, Makana, and Delaney for their friendship, which has not only gotten me through the last three months intact, but is also a precious gift I can no longer imagine my life without; to my friends back home who are the most beautiful souls in the world and who continue to be my everything, no matter how far apart we are; to my new Bulgarian friends, who I look forward to growing to love more and more as time goes on; and to my grandma, for everything she is. I'm also thankful for my health, my faith, and my strength of spirit — without these three things I would never have made it onto the plane to Sofia, let alone be this happy three months into the immense challenge that is exchange. It's a crazy, wonderful, unbelievable life I'm leading. I truly thank God every day for all of the blessings I have been given and I can't wait to see what else Bulgaria, and all that's to come afterwards, has in store.
Photo below: Makana, Delaney, Lily, and Margaret celebrating Thanksgiving.
---