---
Re-Entry in Bosnia and Herzegovina
May 31, 2015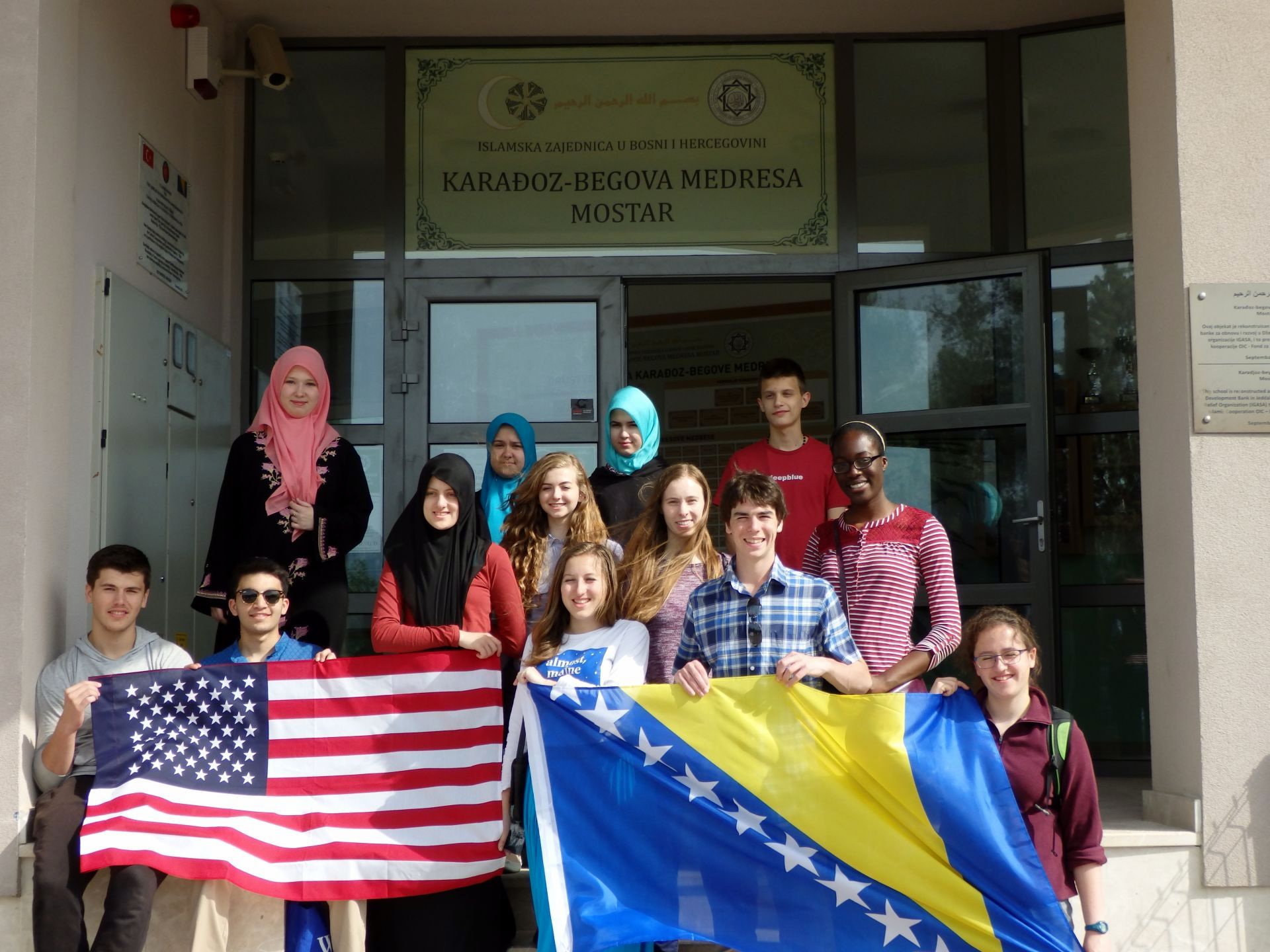 By Lili Z., YES Abroad 2014-2015, Bosnia and Herzegovina
From May 15-17, the YES Abroad Bosnia and Herzegovina group had our end of year orientation. Since YES Abroad in Bosnia is located in two different cities--Sarajevo and Banja Luka--we were lucky enough to spend our orientation together for those three days in Mostar, the largest city in the country's southern region of Herzegovina.
The two students who have spent their year in Banja Luka arrived in Sarajevo on Thursday, May 14, and we (the Sarajevo group) took them on a tour of our host city. First, we went to Vijećnica, the former national library initially built in 1896 by the Austro-Hungarians that was burned down in 1992 during the Bosnian War, but which is now fully restored and acts as the town municipality. We also went to Bijela Tabija, which means "The White Fortress." It is the ruins of a 15th century fortress overlooking Sarajevo, and the view is absolutely spectacular! Later, we walked around and showed them some of our favorite places in Old Town "Baščaršija."
We left for Mostar the following morning. The car ride there was truly breathtaking with the deep blue green river Neretva running through the green mountains. I tried to take pictures for a while, but they never turned out, so I resorted to just enjoying the view. Upon arrival, we settled into our hostel and then went to go eat lunch at the Karađoz-beg's medresa in Mostar. Medresas are specialized high schools in Bosnia and Herzegovina that follow a curriculum set by the Riyasat of the Islamic Community of the country. This one in Mostar graciously hosted us for the entire weekend or our re-entry orientation.
After lunch we hung out with the English Access Microscholarship students from the medresa and then presented our capstone projects at an ice cream social. The Access program is also sponsored by the U.S Department of State and provides students between the ages of 16-18 with twice-weekly classes by trained local instructors and English-language experts from the U.S.
Next, the Access students took us on a tour of beautiful Mostar, which included the famous Stari Most, the Old Town, and a large mall called "Mepas." After the tour we had dinner at the medresa, returned to our hostel for tea and coffee, and then went to bed.
Saturday was our busiest day. It started out with breakfast at the medresa and then we went straight to our return orientation activities. This included talking about some challenges we may face upon return, writing thank you notes to people who helped us throughout the year, reading the advice of YES Abroad Bosnia alumni, and more. We finished a little early and were able to spend that extra time relaxing because we had a field trip coming up that the Access class organized for us. We took a bus to visit Počitelj and Blagaj, two historic towns.
Although our official end-of-year orientation was Friday-Sunday, we were also invited to the U.S. Ambassador's residence for a luncheon on Monday afternoon. We were able to talk to the Ambassador about a variety of interesting topics including some of the embassy's current projects and our recent experiences at the medresa. The Ambassador was very personable and fun to talk to, and we had a really great time there. After lunch, the Banja Luka girls hopped on a bus back to Banja Luka for their last month in Bosnia.
As my year here is coming to an end, there is another group of students around the world starting to prepare for theirs. Meanwhile, my American (natural) family thought it would be really interesting to "continue the cycle" by hosting a Bosnian YES student in the upcoming year. While in Mostar, I was lucky enough to get to meet my future host sister, as she is from Mostar. On Friday afternoon when we had some free time, my future exchange sister and I met in a café. It was really fun to talk toher about the coming school year and try to describe to her things about our family and the U.S. While trying, I realized I had forgotten many things about America, my family's dynamic, and even the American life in general. Since she is set to arrive in the U.S. two months after me, I believe that she and I will have a great time learning about the U.S. together and I look forward to the upcoming year!
---