---
Recent Alumna Shares her YES Abroad Experience
July 7, 2015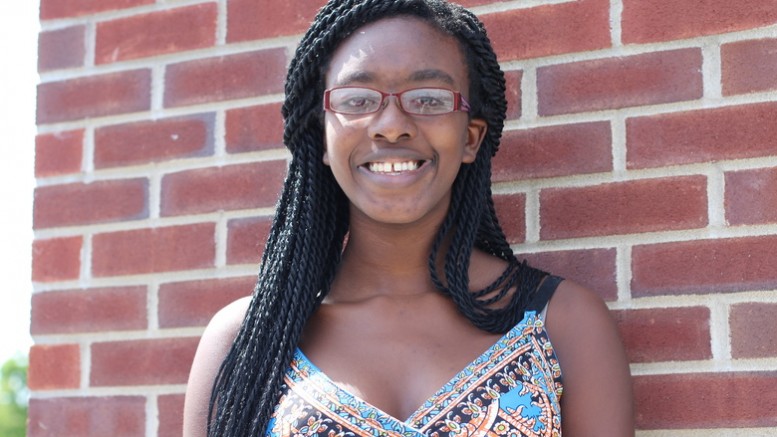 The original version of this article, by Rebecca Isenhart for Your Niskayuna, a weekly publication of The Daily Gazette, was posted on yourniskayuna.com on July 1, 2015.

Back from year in Ghana, student has stories to tell
BY REBECCA ISENHART
Gazette Reporter
NISKAYUNA — When Precious King tells her friends what it was like to spend her junior year in Ghana, instead of at Niskayuna High School, she's doing more than just catching up; she's acting as an ambassador.
"Sharing your story is basically what being an ambassador is," said King, who was one of just 65 students selected by the U.S. Department of State to participate in the highly competitive Kennedy-Lugar YES Abroad program for the 2014-2015 academic year.
King spent her whole junior year living with a host family in Accra, the capital of Ghana and its largest city. The State Department paid her expenses and, in turn, King lived, learned and volunteered in a completely new place.
The YES program was established in October 2002 in response to the events of Sept. 11, 2001. Its purpose was to introduce American high school students to their counterparts in countries with significant Muslim populations.
Until 2009, the initiative brought students from other countries to the U.S. Then, the YES Abroad program was established for American students to pack their bags and participate in the exchange.
Since then, students like King, between the ages of 15 and 17, have faced rigorous applications and interviews to earn the chance to take high school classes in one of twelve countries: Bosnia and Herzegovina, Ghana, India, Indonesia, Macedonia, Malaysia, Morocco, Oman, Philippines, Senegal, Thailand, and Turkey. More than twice that number of countries send students to the U.S. through YES.
Sharing tales of her journey
A large part of the students' responsibilities involves simply having natural conversations about their travels. When people ask King about her trip, she sometimes has to start with the very basics.
"Some people have never heard of Ghana," she said with a laugh. "They think it's Uganda."
With a quick geography lesson out of the way, King has plenty of stories to tell.
Many of them revolve around the ways she spent her free time away from class. Though King is invested in various clubs and activities in Niskayuna, including a demanding commitment to the rowing team, she dialed back her full-speed-ahead attitude while abroad. The change in pace created time for football games (that's soccer to you and me), volleyball, African dance and drumming, and Batik, a type of tie-dye that involves creating wax patterns on fabric before coloring it.
Though she is Christian and lived with a Christian host family in Accra, King also spent time at the local mosque, celebrating the holiday of Eid Al-Ada and even donning a hijab.
"Learning about Islamic culture is part of the program," she said. "They're just people. It's just a culture."
King added that just as Christianity varies around the globe, the way Ghanaians practice Islam is different from the way Muslims in a Middle Eastern country might practice. Adoption of the hijab tends to be very personal in Africa, with some women choosing to wear it and others opting out, for example. It's also simply more common to have Muslim friends and neighbors, as it's a more popular religion in Ghana than in the United States.
Dispelling stereotypes
In addition to acting as an ambassador with her friends in the United States, King also dispelled some stereotypes about Americans for her friends at school in Ghana. She laughs when she talks about some of the ideas her African friends had about her African-American friends: namely, that African-Americans are all rappers, gangsters, or hip-hop stars who live in mansions and have more money than they know what to do with.
On television, African-Americans "look the same, but seem to be privileged," King explained. In addition, the dollar is stronger than the Ghanaian cedi, so Americans who visit the country seem exceptionally wealthy.
The message she tried to impart to her classmates and friends while she visited was to appreciate and take hold of the opportunities that exist at home, in Ghana.
"The rich is a very small percentage in America," she would explain, pointing out the educational opportunities and comparatively low cost of college in Ghana. Higher education is exceptionally competitive there, but people who score highly on government exams can earn huge scholarships to public and private institutions.
As King approaches her senior year of high school, she hopes to share one more message with fellow students: Study abroad if you can.
"It can be for a month," she said.
And though she's happy to be back with her friends in Niskayuna, she's a little homesick for her host family.
"I miss the people and the culture," she said. "They can be your friend in like a second."
---