---
Tahu Telor
February 7, 2020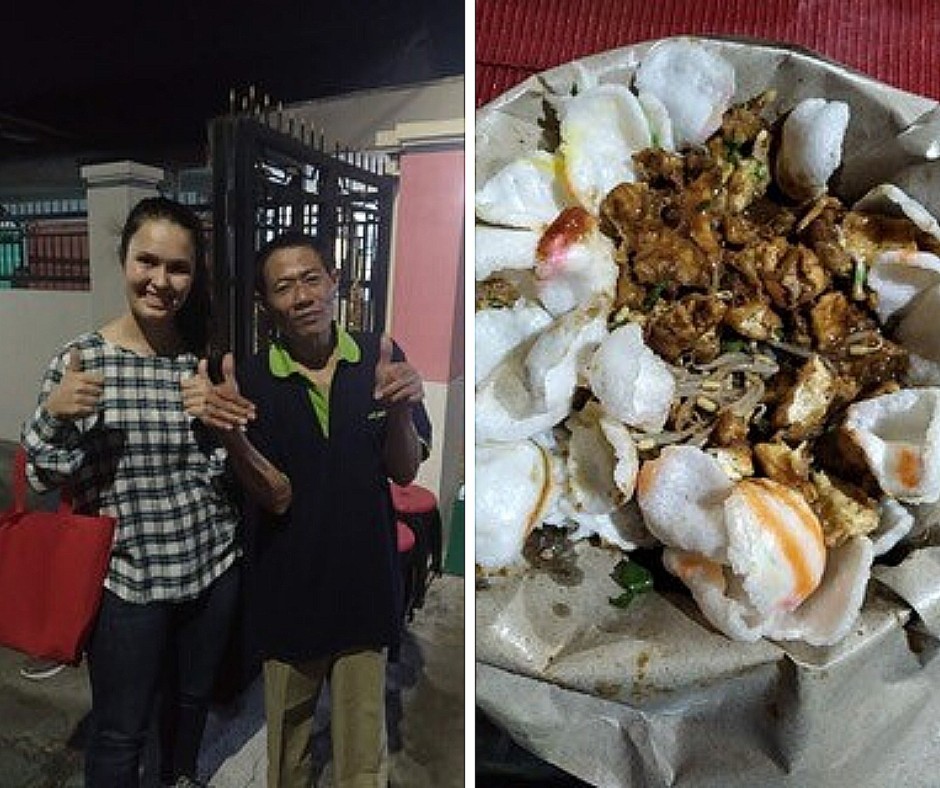 Aurelia V., YES Abroad 2019-2020, Indonesia
The crisp fried outside, the creamy warm inside. The perfect mix of tofu and eggs, two simple ingredients, together made perfect. Smothered in a spicy peanut sauce and eaten over a warm serving of rice. All topped with a rainbow of crunchy krupuks (fried crackers). A vegetarian's dream street food and all this plus rice or lontong (rice cake boiled in banana leaf). What is this magical, wonderful food? tahu telor.
Tahu telor has quickly become my favorite food while in Indonesia and in some ways it has helped me understand a bit more about my community.
The first time I ate tahu telor, I was still getting to know my host family and the neighborhood around their house was a mysterious maze to me.
The second time I went out to eat tahu telor, I was much more comfortable with my host family but all I remembered was that the tahu telor stand was no more than 5 minutes away. I ended up walking all around my neighborhood looking for it, not realizing I had passed it twice already and that the person asking where I was going was Pak Soeot, the tahu telor seller himself.
The third time I went, the stand was much easier to find, and by now I can go there without even thinking about it.
One of the best parts of getting tahu telor for me is the community around it. The tahu telor cart is often stationed right by one of the mosques, so after the Friday Jumu'ah prayer, the stand can be very busy. I love seeing and connecting with everyone then, from the older men in their sarongs to the little girls in their Friday best, even the Imam, all because we want the same tahu telor. Through our shared cravings for tahu telor, I feel l have been able get to know these members of my neighborhood. Whenever people see me walking in the neighborhood around dinner time, they always know that I am where I am going.

In a larger sense tahu telor also shows how there is so much to learn about your host culture. While I lived in Indonesia for a summer as a NSLI-Y scholar, I was studying in a different part of Indonesia and never had a chance to try tahu telor. Now I couldn't imagine not eating it every week. Sampling tahu telor has allowed me to learn more about the culinary diversity of Indonesian culture.
The fact that tahu telor is my favorite Indonesian food has also made for a fun conversation starter, as it a very traditional Javanese dish that not many foreigners try. Often times the first response to my answer is laughter, and then people check and make sure that they heard me right.
The tahu telor stand has become more than just where I get tahu telor; it's become the place where I go and talk with neighbors, get to know my community and learn Javanese. I have become friends with the owners of the stand, Pak and Bu Soeot, and they have taught me how to make tahu telor. Once they took the night off and so I just sat, talked and drank tea with them. It's so cool to see the friendships that all started because of tahu telor. From Pak and Bu Soeot, I have learned so much—not only how to make tahu telor, but also Javanese, new Indonesian words, and life advice—and I've gained a sense of community.

---