---
Artisanal Beads Created by Persons with Disabilities in Ghana
October 27, 2020
By Sarah B.,YES Abroad 2012-2013, Ghana
Sarah received a YES Abroad grant to work with the Matilda Flow Inclusion Foundation in Greater Accra, Ghana. Through this grant, the Foundation was able to train artisans in fabric beadmaking. If you are a YES Abroad alumnus/a and would like to apply for a grant, please visit check the alumni page periodically for information.
In 2012-2013, through YES Abroad, I had the opportunity to live in Kumasi, Ghana, for one year. The experience changed my life, and through it I built relationships in Ghana that last to this day.
After my exchange year, I returned to Ghana several times and continued to build connections. In 2015, I met Matilda Lartey, an artisan and mother of a child with a disability. Matilda is also the director of the Matilda Flow Inclusion (MFI) Foundation, an organization that employs artisans affected by disability to make one-of-a-kind fashion and accessories. After developing a working relationship with Matilda, I co-founded Make Fashion Clean (MFC), a U.S.-based non-profit that supports MFI Foundation.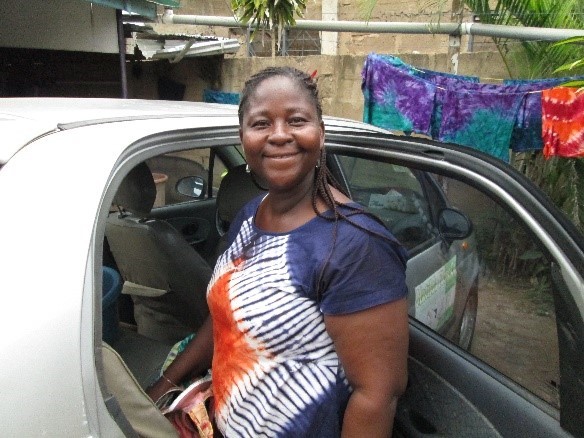 Through my work with MFC, I learned about the barriers persons who are differently abled face in finding work in Greater Accra. Specifically, it is difficult for persons with limited mobility to access transportation and attend work. MFI has a work-from-home program that hires and trains people who face barriers in leaving their homes in artisanal work.
Prior to receiving the YES Alumni grant to work with MFI, two artisans were involved in the work-from-home program, primarily focused on creating knitted hats and mittens. MFI faced barriers in shipping these products to the U.S., and they were not suitable for the local market in Accra. This meant that work needed to be done in the interests of the participants' long-term livelihood. Together, Matilda, the MFC team, and I applied the YES Alumni grant toward this cause.
Through the grant project, Matilda trained two new and two existing artisans in fabric beadmaking. The artisans created prototype beaded products, including necklaces, bracelets, and earrings for the local market. These products are also lightweight and therefore easier to ship for sale on the global market. COVID-19 delayed the shipment of the products to the U.S., but with photos from Matilda, I created an Etsy account for the beautiful products with all revenue going to the artisans.
In March 2020, Accra went into lockdown due to COVID-19. The beadmaking project continued and as one artisan, A, says, "Throughout the lockdown, we have been working and getting paid too. So to cut a long story short, I would say the work has impacted my life." The two new artisans trained by this project have been temporarily hired by the MFI Foundation. Their eventual goal is to sell beaded products semi-independently on the local market. While social distancing recommendations are still in place, they will continue to create their products from home.

---