---
YES Abroad Alumni Spotlight: Isabel de Katona
April 5, 2023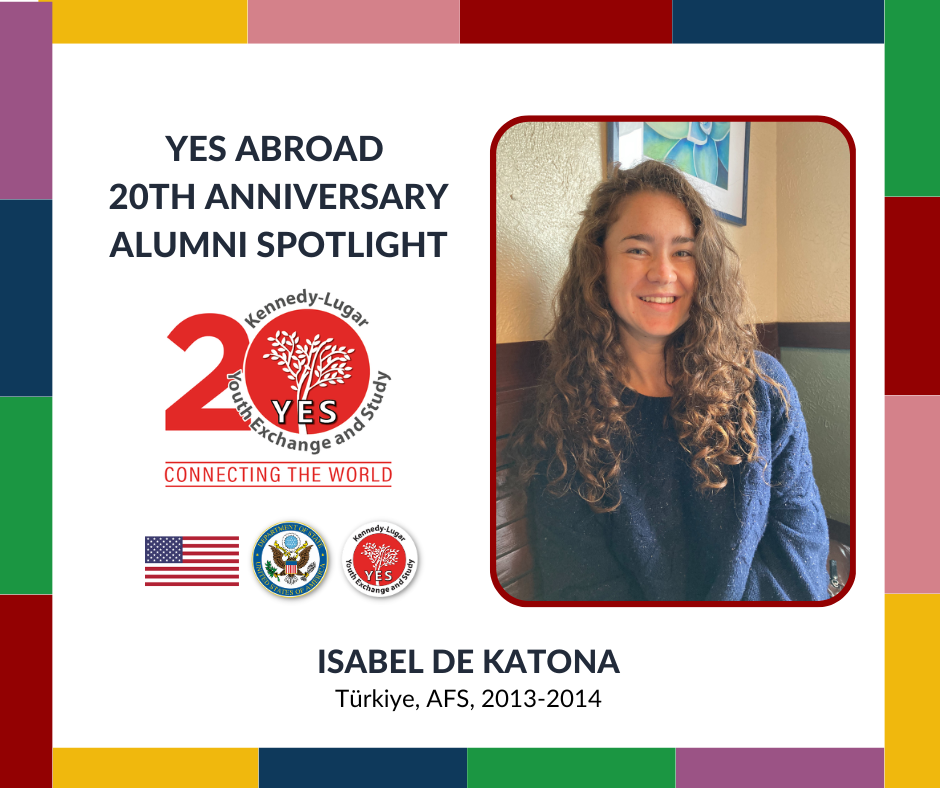 By Isabel de Katona, YES Abroad 2013-2014, Türkiye
What are some of your biggest accomplishments since becoming an alum of the YES Abroad program?
I received my Bachelor of Arts in Anthropology from Barnard College and my Master of Public Administration from Columbia University School of International and Public Affairs through an accelerate 4+1 BA/MPA program. I then went on to work on the U.S. Census and the November 2020 election, before spending a year serving at a Catholic shelter for migrants in Tijuana, Baja California, Mexico. I am now helping manage a federal communicate development grant for Travis County, Texas, and applying to law school. What I consider one of my greatest accomplishments has been my commitment to traveling and living abroad, as well as my dedication to maintaining my Turkish language skills and connection to Türkiye.
What are some of your favorite memories from the YES Abroad program?
My favorite memories are centered on the people I met while abroad. I was hosted in a city with no other exchange students, and because of this, I established deep connections to my friends and host family. Memories as simple as spending weekends at my host grandma's house in Izmir, or sitting at a cafe with my friends for the last time before I returned to the United States, dancing to Just Dance videos with my friends in between classes, or the smell of the spring air through my window as I rested after school. My favorite memories are, in short, the moments that made Aydin, Türkiye, my home; the moments where I realized that this country that had been completely foreign to me just a few months before, now felt deeply familiar.
What are some of the ways you've stayed connected to fellow alumni since your exchange experience? What about your host family or friends that you met abroad?
One of my best friends in the world is one of my fellow alumni from YES Abroad Türkiye 2013-2014. We both went to college in New York City, and from the foundation of our time in Türkiye, through the years we were in New York, we maintained and strengthened our friendship. I have returned to Türkiye to visit, intern and conduct research, almost every two years since my return from YES Abroad in 2014, and through that, have maintained the friendships I built during my year abroad. Last summer I attended one of my high school friend's bachelorette parties in Istanbul, which felt incredibly special considering that it had been nearly nine years since we first met. And, finally, my host family has remained one of the most important relationships I have in the world. We have seen each other in Türkiye, the U.S., and Mexico, and what began as an exchange student-host family relationship, has grown into something much deeper and enduring.
How did the YES Abroad program impact you professionally? What about personally?
Though my career path has changed, and likely will continue to, the YES Abroad program shifted my perspective from a US-centric perspective, to a global one. After living abroad for a year, creating family, friends and community, I can no longer watch the news or consider my actions exclusively in terms of how it affects the United States. It also instilled in me a deep appreciation for learning languages and being able to communicate with people outside of the boundaries of English. On a more personal note, I never expected to call Türkiye home in the way that I now do, or to have built as many friendships around the world with Turkish people as I have. Türkiye, the Turkish language, and the Turkish people have proven to be one of the great loves of my life.
What is one piece of advice you would give to current or future YES Abroad program participants?
My advice is to go easy on yourself! There will be moments when you look back and wish you had said "yes" more often, or responded in a better way to a situation, but, at the end of the day, you are living through a challenging and mind-bendingly transformative year. Find something to appreciate every single day, learn a new word or grammar rule when you can, and appreciate the strength it takes to be there! The year will go by faster than you can imagine, so take it in while you can.
In 10, 20, or even 30 years, what do you hope the legacy of the YES Abroad program will be?
I hope, and I foresee, that the legacy will be exactly what, and possibly more, than Senators Kennedy and Lugar envisioned: A generation and a half of people who, despite stereotypes and misinformation, sought answers and community outside of their comfort zones. A generation and a half of people who have transcended limitations of language, culture and government, to better understand their fellow humans, and who placed themselves squarely in the global community during one of the most foundational times of their lives.
---