---
YES Abroad Alumni Spotlight: Phoebe Rossman
September 13, 2023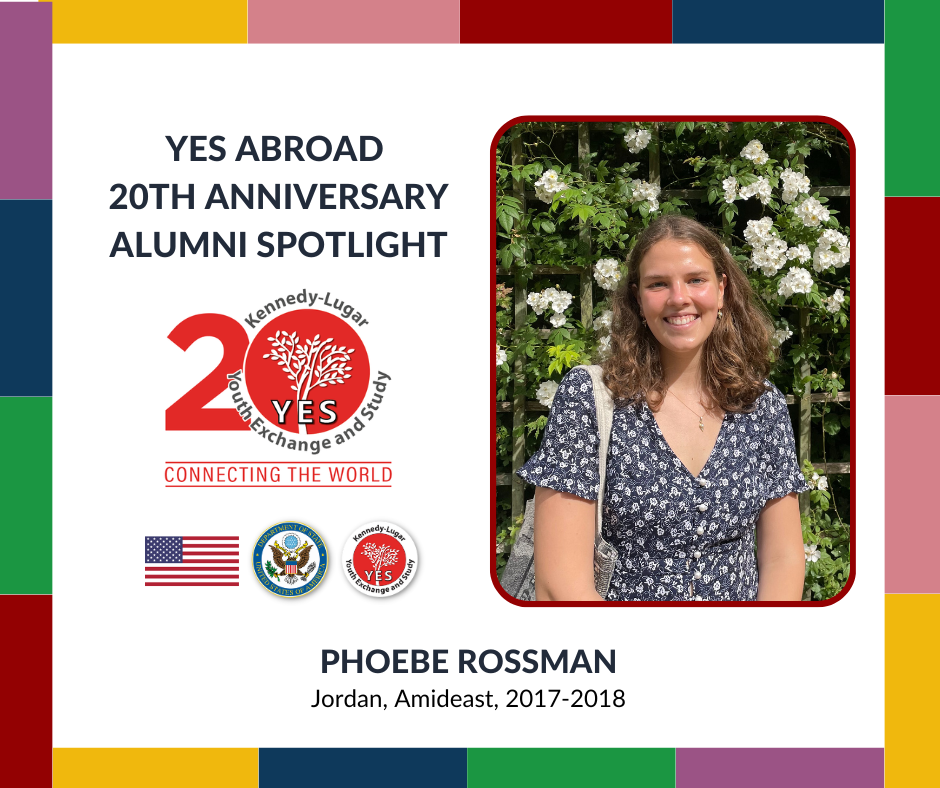 By Phoebe Rossman, YES Abroad 2017-2018, Jordan
What are some of your biggest accomplishments since becoming an alum of the YES Abroad program?
Since participating in YES Abroad, I graduated from high school and started school at Barnard College. I study comparative literature and have deepened my knowledge of the Arabic language. But honestly, the years since my exchange have been filled with a lot difficulty-- for myself and, I'm sure, for everyone else. The whole COVID-college experience brought my mental health to an all time low and though I had planned to row in Barnard, I suffered two sports injuries that benched me for two years. So, to be honest, the things I'm the proudest of are how I've persisted, worked on my mental health, maintained and built relationships, and pushed myself to make the best out of less-than-ideal situations. Those are all skills that my YES Abroad experience helped me create, and I'm really grateful for that.
What are some of your favorite memories from the YES Abroad program?
This is such a hard question, mostly because memory is weird and the way that I remember my time in Jordan has changed as the years have gone by, and continues to shift each time I reflect upon it.
These days, my favorite memories are less so individual events but rather nine months blurred together with these touchstones of repeating motifs. I remember sitting with my host mom and roommate in the kitchen, teasing each other and gossiping about our lives. I remember walking alone around the city when the light was perfect, a gap in the buildings would appear, and then I could see the hills of Amman going on forever. I remember the excursions we went on— less so the actual places we visited but more so the winding roads of the Jordanian countryside, where each turn reveals a rolling hill of lush, green flora, or an expansive desert, or the endless, shimmering lights of people's homes in the night. I remember eating a lot of good food--especially the koshari my host mom cooked and the falafel sandwiches from the place around the corner. I remember growing a lot, and crying a lot, and falling apart, and putting myself back together— sometimes by myself and sometimes with the help of others. I think about how hard I worked to find opportunities; I still have to pinch myself when I remember my accomplishments: the mural I painted, the two comics I got published, the art shows I participated in. And, of course, the friends and mentors I was lucky enough to find. I remember the sunsets. But more than anything, I remember the person I was and I thank her for her for helping me become the person I am now.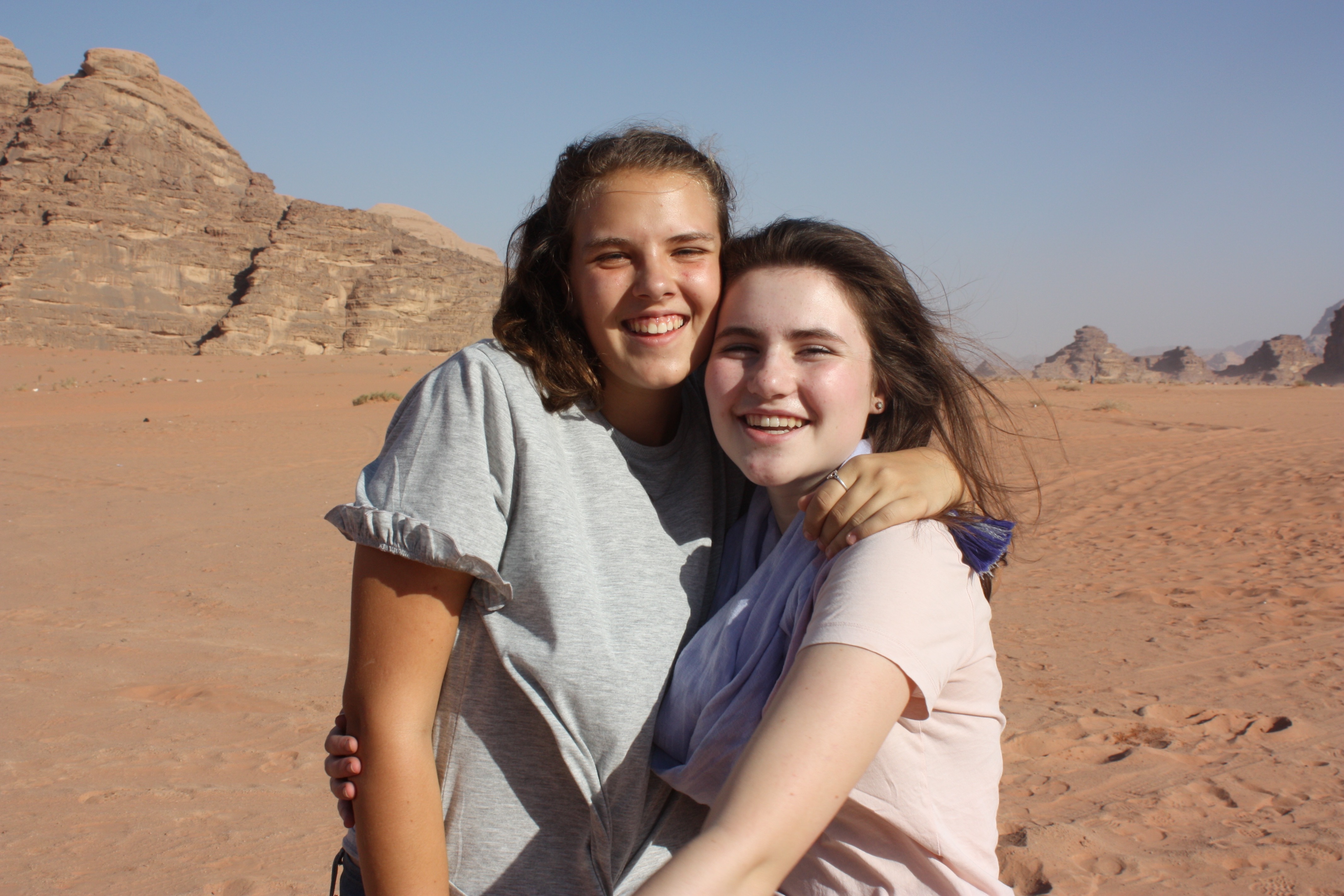 What are some of the ways you've stayed connected to fellow alumni since your exchange experience? What about your host family or friends that you met abroad?
Of everything I did, learned, and gained during my nine months in Jordan, I am most grateful for the enduring friendship I built with my then-roommate and fellow cohort member, Caroline. It took us the first few months to figure out how to live together-- the beginning of exchange is tough and we constantly lashed out at each other in those early days. But, we worked hard on creating boundaries and treating each other with respect and, eventually (much to everyone's surprise), realized we actually got along pretty well!

Nowadays, we talk regularly, visit each other at least once a year, and have even traveled together! Last spring, I visited her in Berlin, where she was studying abroad, and we went to Paris together. It was so fun to experience navigating a foreign country with her again and I hope it is the first of many more adventures to come. There's no one in the world that I laugh more with. It's cliche, but she's like a sister to me and I will be grateful for the rest of my life that YES Abroad placed us in the same host family and forced us to become friends :)
How did the YES Abroad program impact you professionally? What about personally?
During my time in Jordan, I volunteered as a teacher assistant with the ACCESS Program, a micro-scholarship funded by the US State Department that provides English language lessons to adolescents in the Jordanian public school system. I have always been interested in a career in education but working with the wonderful head teachers and students in that program brought me so much joy. That experience solidified teaching as the strongest future career path for me. This past year I have been working as a substitute teacher part-time and I plan to work in education after college.
What is one piece of advice you would give to current or future YES Abroad program participants?
Give yourself grace. Exchange is really tough! I don't think I have ever pushed myself as hard as I did during YES Abroad. I saw every day as a competition with myself-- can I do more things, learn more Arabic words, build more connections with people, etc. than I did yesterday? Because of that mindset, I accomplished a lot, and I will always be proud of sixteen-year-old Phoebe for all that she did. But that mindset also really burned me out. It genuinely took my social battery years to fully recharge; I came into college with very little bandwidth to make new relationships. Looking back, I wish I had given myself more grace and space to just be.
In 10, 20, or even 30 years, what do you hope the legacy of the YES Abroad program will be?
I'm just so excited that many more young people will be able to have the enriching and challenging experiences that come with exchange as the YES Abroad program continues to grow and develop!
---