---
YES Monitoring and Evaluation Webinar
October 6, 2021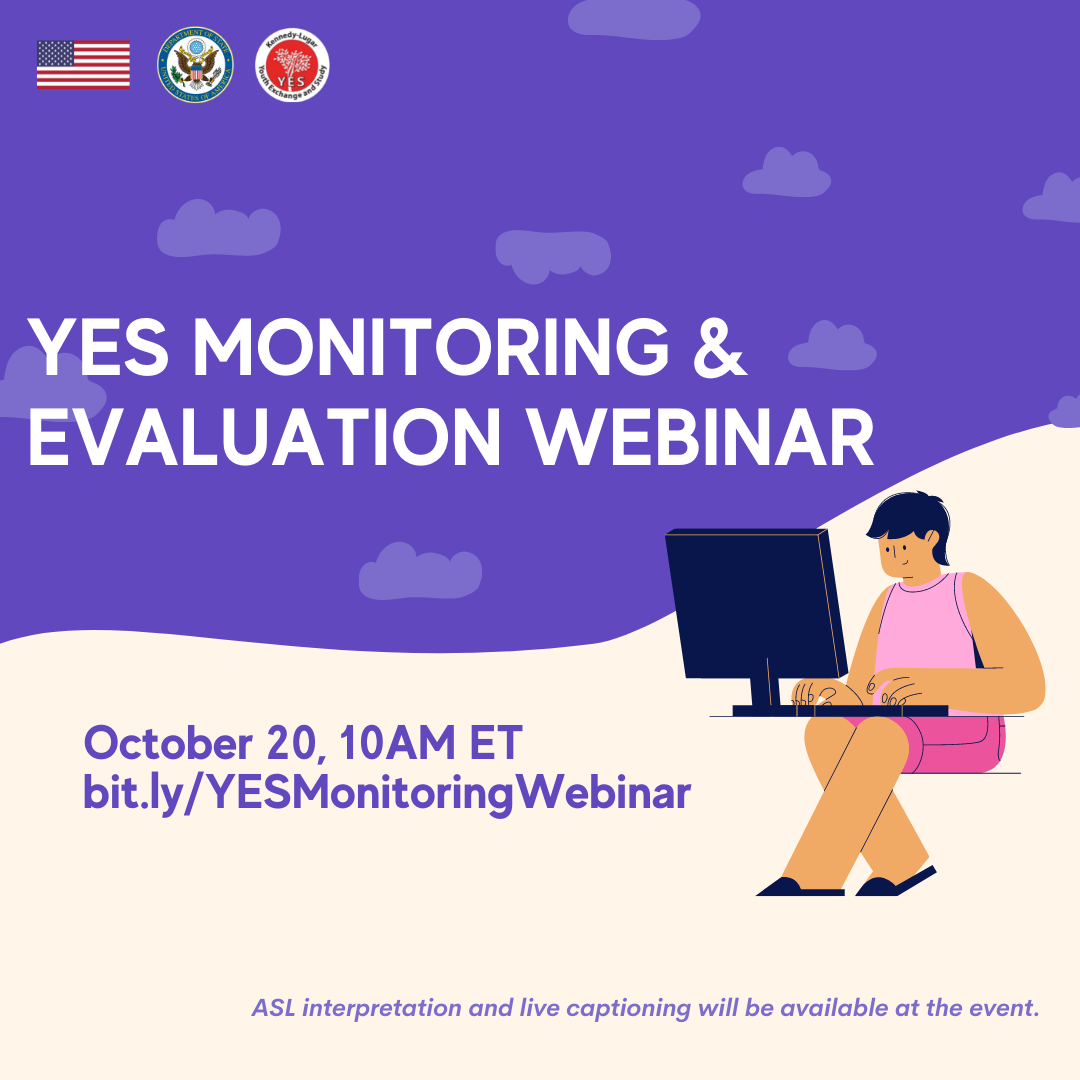 On Wednesday, October 20 at 10am ET, the YES Abroad program hosted the YES Monitoring and Evaluation Webinar. At this event, webinar attendees learned how to design and implement Monitoring and Evaluation (M&E) tools that are useful for measuring the success and impact of community development projects, projects, and initiatives. M&E is used to assess community impact with the goal of improving future management of outcomes and sharing successes with key stakeholders. M&E can be conducted using a wide array of quantitative and qualitative tools, methods, and approaches, including surveys, evaluations, performance monitoring indicators, and interviews.
This webinar was ideal for YES Abroad alumni who are interested in learning more about M&E as it relates to their careers, community service initiatives, and alumni projects.
The YES M&E webinar was facilitated by an expert guest speaker and two YES inbound alumni who have implemented M&E in their community development work. Following the panelists' presentations, attendees had the chance to ask questions in the Q&A portion of the event.
Watch the webinar recording below!
Allan Kakinda currently serves as the Senior Manager of Innovation, Monitoring and Evaluation at Compassion International. He has over 10 years of experience in providing M&E design, technical assistance and advice in a variety of sectors including WaSH (Water, Hygiene and Sanitation), Reproductive Health, Livelihoods programming, Education and eLearning, Poverty and Public Health. He provided M&E Support and guidance in a variety of countries in Africa, Asia, and Latin America and is passionate about using data and statistical methods to generate evidence to inform and improve programming. He has also been a member of iEARN since 2002, when he joined as a student. and is currently a country coordinator for iEARN in Uganda.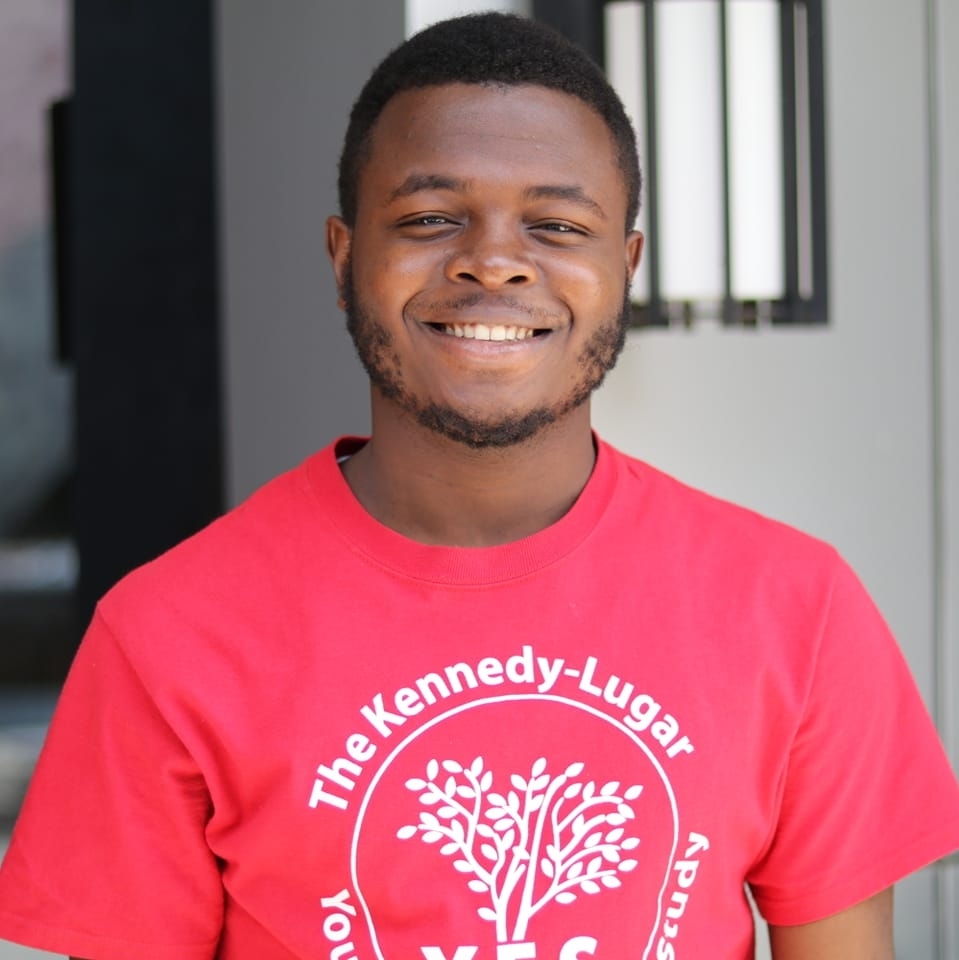 Ishaku "Shak" Abner (YES 2009-2010, Nigeria, placed with IRIS in Coon Rapids, IA) holds a Bachelor of Technology degree in Mathematics from University of Technology, Minna and is currently pursuing his post graduate studies in Developmental Education from Gombe State University. He was hosted in Iowa from 2009–2010 for the Kennedy-Lugar Youth Exchange and Study (KL-YES) program. He served as the National President of the KL-YES Alumni in Nigeria—an association that he helped start in 2014—from 2017 to 2019, where he led over 300 alumni across 12 participating states and managed over 17 community response projects. Ishaku Abner is also a Peace Promotion Fellow with Equal Access International and led the team of volunteers in 2018 and 2020 during the #Football4Peace project to counter violent extremism narratives in Gombe State, which was featured on Arewa24 Satellite channel. Ishaku is the current Project Officer for the United States Government-sponsored Exchange Alumni Association, Gombe State chapter, where he is in charge of managing and scheduling deadlines of projects while monitoring and identifying potential issues or risks that may hinder project progress. He has over 2000 hours volunteering in community service across eight states in Nigeria. He is also a creative writer.
Musa A. Kabbah (YES 2015-2016, Liberia, placed by YFU in Alpena City, MI) is the founder and Executive Director of Better Understanding for a Better Liberia (BUBL). He oversees the organization's daily operations. Musa is studying Electrical System Technology at Alpena Community College (ACC) in Alpena City, Michigan. He has considerable experience in computer programming, fiber optics, Programmable Logic Controllers, and web design. He is a youth leader and advocate with extensive experience in youth initiatives and volunteering, including peacebuilding and interfaith and intercultural dialogue. Musa is a member of the Language Society at ACC and a peer tutor. He is a member of the Student Leadership Committee at ACC, where he helps plan activities and organize events for students. Musa was an intern at Youth for Understanding USA (YFU), Digital Diplomacy for West Africa. He helped moderate the Digital Diplomacy training during his internship with YFU. Musa holds a professional certificate in Cross-cultural Competence from the (YFU) virtual exchange program. He is an alumnus and former youth ambassador of the Kennedy-Lugar Youth Exchange and Study programs in Liberia and the United States.
---